| | |
| --- | --- |
| 2002-2003 Syracuse Orangemen | |
******* NCAA NATIONAL CHAMPIONS *********
Coach: Jim Boeheim
| | | | | | | | | | | | | | | | | | | | | | | | | | | | |
| --- | --- | --- | --- | --- | --- | --- | --- | --- | --- | --- | --- | --- | --- | --- | --- | --- | --- | --- | --- | --- | --- | --- | --- | --- | --- | --- | --- |
| Player | Cl | Pos | G | GS | Min | FG | FGA | FG% | FT | FTA | FT% | 3PT | 3PA | 3P% | Ast | Reb | DReb | OReb | Fls | DQ | TO | ST | BS | Pts | Ppg | Apg | Rpg |
| Gerry McNamara | Fr | G | 35 | 35 | 1235 | 146 | 364 | 40.1% | 90 | 99 | 90.9% | 85 | 238 | 35.7% | 155 | 80 | 66 | 14 | 69 | 1 | 85 | 77 | 2 | 467 | 13.3 | 4.4 | 2.3 |
| Kueth Duany | Sr | G | 35 | 35 | 944 | 133 | 303 | 43.9% | 77 | 114 | 67.5% | 43 | 123 | 35.0% | 71 | 128 | 83 | 45 | 75 | 1 | 57 | 36 | 17 | 386 | 11.0 | 2.0 | 3.7 |
| Carmelo Anthony | Fr | F | 35 | 35 | 1274 | 277 | 612 | 45.3% | 168 | 238 | 70.6% | 56 | 166 | 33.7% | 77 | 349 | 248 | 101 | 77 | 0 | 77 | 55 | 30 | 778 | 22.2 | 2.2 | 10.0 |
| Hakim Warrick | So | F | 35 | 35 | 1146 | 197 | 364 | 54.1% | 124 | 186 | 66.7% | 0 | 1 | 0% | 57 | 297 | 185 | 112 | 94 | 4 | 92 | 49 | 44 | 518 | 14.8 | 1.6 | 8.5 |
| Craig Forth | So | C | 35 | 35 | 618 | 56 | 115 | 48.7% | 20 | 40 | 50.0% | 0 | 1 | 0% | 30 | 116 | 66 | 50 | 90 | 4 | 39 | 14 | 51 | 132 | 3.8 | 0.9 | 3.3 |
| Billy Edelin | Fr | G | 23 | 0 | 533 | 80 | 146 | 54.8% | 48 | 71 | 67.6% | 0 | 2 | 0% | 58 | 78 | 55 | 23 | 22 | 0 | 58 | 24 | 2 | 208 | 9.0 | 2.5 | 3.4 |
| Josh Pace | So | G/F | 32 | 0 | 469 | 62 | 118 | 52.5% | 14 | 25 | 56.0% | 0 | 2 | 0% | 60 | 86 | 64 | 22 | 33 | 0 | 37 | 26 | 8 | 138 | 4.3 | 1.9 | 2.7 |
| Jeremy McNeil | Jr | C | 35 | 0 | 657 | 54 | 81 | 66.7% | 9 | 20 | 45.0% | 0 | 0 | --- | 8 | 146 | 84 | 62 | 112 | 4 | 36 | 9 | 100 | 117 | 3.3 | 0.2 | 4.2 |
| Matt Gorman | Fr | F | 9 | 0 | 76 | 8 | 23 | 34.8% | 5 | 8 | 62.5% | 0 | 2 | 0% | 1 | 19 | 15 | 4 | 14 | 0 | 5 | 3 | 2 | 21 | 2.3 | 0.1 | 2.1 |
| Andrew Kouwe | Jr | G | 6 | 0 | 10 | 3 | 5 | 60.0% | 2 | 2 | 100% | 2 | 2 | 100% | 2 | 2 | 1 | 1 | 2 | 0 | 1 | 0 | 0 | 10 | 1.7 | 0.3 | 0.3 |
| Ronneil Herron | Sr | G | 5 | 0 | 9 | 2 | 3 | 66.7% | 2 | 3 | 66.7% | 0 | 0 | 0% | 0 | 5 | 5 | 0 | 0 | 0 | 1 | 0 | 0 | 6 | 1.2 | 0.0 | 1.0 |
| Xzavier Gaines | Fr | G | 6 | 0 | 21 | 1 | 8 | 12.5% | 0 | 0 | --- | 0 | 3 | 0% | 1 | 2 | 1 | 1 | 0 | 0 | 2 | 1 | 0 | 2 | 0.3 | 0.2 | 0.3 |
| Gary Hall | Jr | F | 5 | 0 | 6 | 1 | 1 | 100% | 0 | 0 | --- | 0 | 0 | --- | 2 | 2 | 2 | 0 | 0 | 0 | 0 | 1 | 1 | 2 | 0.4 | 0.4 | 0.4 |
| Tyrone Albright | Sr | G | 7 | 0 | 20 | 0 | 2 | 0% | 0 | 0 | --- | 0 | 1 | --- | 1 | 2 | 1 | 1 | 1 | 0 | 3 | 2 | 0 | 0 | 0.0 | 0.1 | 0.3 |
| Josh Brooks | Jr | F | 5 | 0 | 6 | 0 | 1 | 0% | 0 | 0 | --- | 0 | 0 | --- | 0 | 1 | 1 | 0 | 1 | 0 | 0 | 0 | 0 | 0 | 0.0 | 0.0 | 0.2 |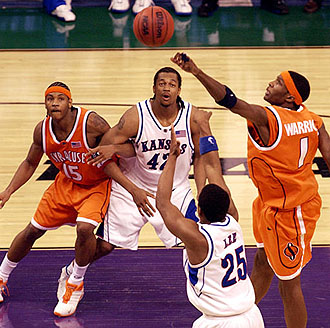 The team started the season unranked, and an opening game loss to Memphis. Freshman point guard Billy Edelin was suspended 12 games for an NCAA infraction involving his playing in a church league the previous season. From that point on, everything got better.
On a team with one senior (Kueth Duany), three freshman (Carmelo Anthony, Gerry McNamara, and Edelin) and three sophomores (Craig Forth, Hakim Warrick, and Josh Pace), the group played with unselfish play and tremendous resolve. By season's end, they had won fifteen games that required second half comebacks.
The Orangemen just kept winning games, a different player stepping up each night. By season's end the group had mastered their zone defense, and in the NCAA tournament the team was on a roll. They had all the components: the big star to fall back on (Anthony), big bodies in the middle (Forth & Jeremy McNeil), long armed players on the perimeter (Warrick, Duany, Forth & Pace),and a point guard (McNamara) with tremendous 3 point shooting and free throw shooting.
Fittingly they made it to the NCAA Championship game down in the Super Dome in New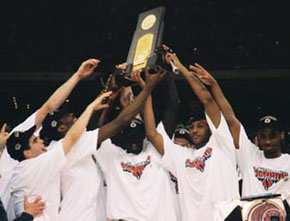 Orleans, the site of the heartbreaking 1987 last second loss to Indiana. Gerry McNamara was on fire in the first half with 6 three point baskets, and Carmelo Anthony was equally as hot, as Syracuse pulled out to a large first half lead. In the second half, Kansas slowly crept back into the game, and got within a basket of tying it up. But fate was kind to Syracuse this time, as Hakim Warrick had the signature play for the university, blocking the potential game winning shot from Kansas' Michael Lee as time was expiring. Ironically, this was at the same location on the court that sixteen years earlier had seen Keith Smart throw a dagger into SU's heart.
Also of note: during the course of the season, the Big 12 conference was touted as the best conference in the country. Yet Syracuse swept the conference over the course of the season, beating Missouri in January, and then facing four Big 12 teams in the NCAA tourney (Oklahoma, Oklahoma St, Texas, and Kansas), allowing Syracuse fans to joke that SU had also won the "Big 12 Championship".
© RLYoung 2005, 2007