| | | |
| --- | --- | --- |
| 6'6" | 190 lbs | Guard/Forward |
| | |
| --- | --- |
| Born: 5/23/1983 | Griffin, GA |
Season Stats

| Season | Cl | Pos | G | GS | Min | FG | FGA | % | FT | FTA | % | 3Pt | 3PA | % | Asst | Reb | DReb | OReb | Fls | DQ | TO | ST | BS | Pts | PPG | APG | RPG |
| --- | --- | --- | --- | --- | --- | --- | --- | --- | --- | --- | --- | --- | --- | --- | --- | --- | --- | --- | --- | --- | --- | --- | --- | --- | --- | --- | --- |
| 2001-02 | Fr | G/F | 32 | 0 | 388 | 58 | 117 | 49.6% | 21 | 36 | 58.3% | 1 | 10 | 10.0% | 25 | 65 | 37 | 28 | 34 | 1 | 22 | 29 | 4 | 138 | 4.3 | 0.8 | 2.0 |
| 2002-03 | So | G/F | 32 | 0 | 469 | 62 | 118 | 52.5% | 14 | 25 | 56.0% | 0 | 2 | 0.0% | 60 | 86 | 64 | 22 | 33 | 0 | 37 | 26 | 8 | 138 | 4.3 | 1.9 | 2.7 |
| 2003-04 | Jr | G/F | 31 | 31 | 1051 | 135 | 269 | 50.2% | 23 | 59 | 39.0% | 1 | 5 | 20.0% | 102 | 165 | 112 | 53 | 55 | 0 | 51 | 55 | 13 | 294 | 9.5 | 3.3 | 5.3 |
| 2004-05 | Sr | G/F | 34 | 34 | 1133 | 169 | 296 | 57.1% | 30 | 54 | 55.6% | 0 | 3 | 0.0% | 128 | 170 | 106 | 64 | 53 | 0 | 67 | 51 | 15 | 368 | 10.8 | 3.8 | 5.0 |
| Career | | | 129 | 65 | 3041 | 424 | 800 | 53.0% | 88 | 174 | 50.6% | 2 | 20 | 10.0% | 315 | 486 | 319 | 167 | 175 | 1 | 177 | 161 | 40 | 938 | 7.3 | 2.4 | 3.8 |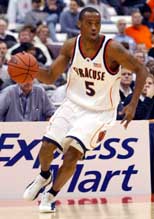 Josh Pace was one of those players who made himself an invaluable part of the team by helping out in many areas of the game. He could play both the off-guard and small forward positions, and rotated as needed within a game. Pace was a good rebounder for his size, solid defender, and displayed an amazing ability to drive the lane and make the short left handed toss for an easy two points. He had very good ball handling skills for a player his size, and often could rotate to a "point forward" position, freeing up Gerry McNamara for periods of time.
Pace had a very limited shooting range (10 feet and in), and played well within his means, rarely taking a long shot. He had the dubious distinction of being one of the worst free throw shooters in Orangeman history, with a shot that was flat out ugly.
But if you needed a loose ball picked up, or a key offensive rebound, or a guy to drive the lane, he often was able to deliver. During the 2003 Championship run, Pace was a vital part, with several key baskets and rebounds from off the bench. He shot 7 of 13 to score 14 points and help the Orangemen beat Auburn, pulled down 8 rebounds each against both Oklahoma State and Kansas, and scored 12 against Texas.
Pace was on the Big East Honorable Mention team his senior season, and also earned the Big East Sportsmanship of the Year Award that same season.
Pace would play professional basketball in an Australian / New Zealand league in 2006, earning all-star distinction. He would play briefly in Finland, before returning to the New Zealand league in 2007, where he earned league MVP and led the Nelson Giants to the league championship. After the season ended, he returned to the U.S. to play for the East Kentucky Miners of the CBA. Pace would retire from professional basketball in 2015. He would become an assistant coach for Pepperdine's women's basketball team later that year. Pace would be the head coach of the Western New Mexico woman's basketball team in 2020.
© RLYoung 2005, 2006, 2007, 2015, 2020