| | |
| --- | --- |
| Born: 8/15/1981 | Rochester, NY |
Season Stats

| Season | Cl | Pos | G | GS | Min | FG | FGA | % | FT | FTA | % | 3Pt | 3PA | % | Asst | Reb | DReb | OReb | Fls | DQ | TO | ST | BS | Pts | PPG | APG | RPG |
| --- | --- | --- | --- | --- | --- | --- | --- | --- | --- | --- | --- | --- | --- | --- | --- | --- | --- | --- | --- | --- | --- | --- | --- | --- | --- | --- | --- |
| 2000-01 | Fr | G | 5 | 0 | 6 | 0 | 3 | 0.0% | 0 | 1 | 0.0% | 0 | 1 | 0.0% | 0 | 1 | 1 | 0 | 0 | 0 | 2 | 0 | 0 | 0 | 0.0 | 0.0 | 0.2 |
| 2001-02 | | | 9 | 0 | 16 | 0 | 5 | 0.0% | 0 | 0 | 0.0% | 0 | 3 | 0.0% | 0 | 0 | 0 | 0 | 2 | 0 | 2 | 2 | 0 | 0 | 0.0 | 0.0 | 0.0 |
| 2002-03 | | | 6 | 0 | 10 | 3 | 5 | 60.0% | 2 | 2 | 100% | 2 | 2 | 100% | 2 | 2 | 1 | 1 | 2 | 0 | 1 | 0 | 0 | 10 | 1.7 | 0.3 | 0.3 |
| 2003-04 | Sr | G | 6 | 0 | 6 | 1 | 6 | 16.7% | 0 | 1 | 0.0% | 0 | 0 | --- | 0 | 1 | 1 | 0 | 1 | 0 | 2 | 0 | 0 | 2 | 0.3 | 0.0 | 0.2 |
| Career | | | 26 | 0 | 38 | 4 | 19 | 21.1% | 2 | 4 | 50.0% | 2 | 6 | 33.3% | 2 | 4 | 3 | 1 | 5 | 0 | 7 | 2 | 0 | 12 | 0.5 | 0.1 | 0.2 |
Andrew Kouwe was a reserve guard for Syracuse for four seasons. He joined the team as a walk-on during his freshman season.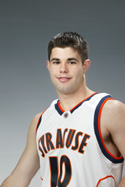 Kouwe's high school basketball team was the Florida state champion runner up both in freshman and junior seasons.
Kouwe's uncle, Bob Kouwe, was a three year letterman for Syracuse from 1967 to 1969.
© RLYoung 2006