| | |
| --- | --- |
| HS: Mater Dei | Laguna Hills, CA |
Season Stats

| Season | Cl | Pos | G | GS | Min | FG | FGA | % | FT | FTA | % | 3Pt | 3PA | % | Asst | Reb | DReb | OReb | Fls | DQ | TO | ST | BS | Pts | PPG | APG | RPG |
| --- | --- | --- | --- | --- | --- | --- | --- | --- | --- | --- | --- | --- | --- | --- | --- | --- | --- | --- | --- | --- | --- | --- | --- | --- | --- | --- | --- |
| 1989-90 | Fr | G | 20 | 0 | 167 | 20 | 36 | 55.6% | 15 | 20 | 75.0% | 2 | 5 | 40.0% | 26 | 24 | 15 | 9 | 31 | 0 | 14 | 4 | 0 | 57 | 2.9 | 1.3 | 1.2 |
| 1990-91 | So | G | 31 | 4 | 411 | 38 | 74 | 51.4% | 17 | 31 | 54.8% | 9 | 22 | 40.9% | 43 | 60 | 34 | 26 | 85 | 3 | 36 | 12 | 4 | 102 | 3.3 | 1.4 | 1.9 |
| 1991-92 | Jr | G | 31 | 31 | 833 | 65 | 145 | 44.8% | 56 | 89 | 62.9% | 15 | 43 | 34.9% | 71 | 121 | 64 | 57 | 117 | 3 | 42 | 45 | 7 | 201 | 6.5 | 2.3 | 3.9 |
| 1992-93 | Sr | G | 29 | 27 | 818 | 91 | 208 | 43.8% | 62 | 84 | 73.8% | 24 | 65 | 36.9% | 63 | 106 | 60 | 46 | 76 | 4 | 63 | 42 | 10 | 268 | 9.2 | 2.2 | 3.7 |
| Career | | | 111 | 62 | 2229 | 214 | 463 | 46.2% | 150 | 224 | 67.0% | 50 | 135 | 37.0% | 203 | 311 | 173 | 138 | 309 | 10 | 155 | 103 | 21 | 628 | 5.7 | 1.8 | 2.8 |
Mike Hopkins was a scrappy shooting guard for the Orangemen, a solid starter for two seasons and captain his senior year. Hopkins was a fine ball handler and a solid perimeter shooter. However, he was a fan favorite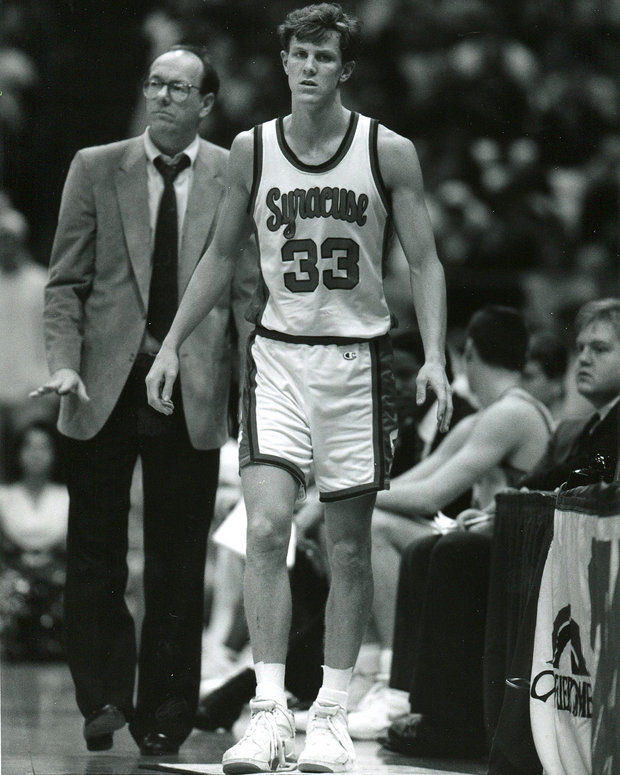 because he constantly hustled on the court, diving for loose balls and hustling for rebounds. Seeing Hopkins with a bloody uniform, floor burns or a black eye was common place. He was one of those players who did all the little things in a game that allowed a team to be a consistent winner.
He was a high school basketball teammate of fellow Orangeman LeRon Ellis. As a junior at Syracuse, Hopkins teamed with Adrian Autry in the backcourt. Against Georgetown in the Big East tournament finals, Hopkins hit two free three with three seconds left that won the game and the Big East Championship for the Orangemen. Hopkins would split his eyebrow against UMass in the NCAA tournament, and played the remaining 10 minutes of the game with his eyebrow taped, his jersey and hair memorably bloodstained.
His senior year, Hopkins was more involved in the offense, scoring 9.2 points per game. Against Pittsburgh in his last home game, he led the team to victory with 20 points, six rebounds and five assists.
Following graduation he played in the CBA for the Rochester Renegades, and also played in for Turkey and Holland in European leagues.
Hopkins became an assistant coach for Syracuse in 1996, and worked primarily with the guards. Jason Hart and Allen Griffin were two of the first guards that he worked extensively with. In 2000 he also started recruiting for the Orangemen, and found he excelled in that role. He was an assistant coach on the 2003 National Championship team.
Hopkins was named a Syracuse Letterwinner of Distinction in 2014, and the Vic Hanson Medal of Excellence winner in 2015. In the Spring of 2015, Hopkins was officially named the next Syracuse Head Basketball coach, to replace Jim Boeheim upon his retirement.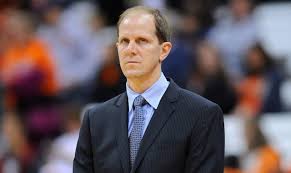 Hopkins would get his first chance as a head coach during Boeheim's controversial nine game suspension from December 5, 2015 to January 5, 2016. His first game was against former Big East rival Georgetown, a game the Orange lost 79-72. Hopkins first win was a 78-51 win over longtime rival Colgate. His nine game stint did not generate much success as the Orange went 4-5, including going winless in three ACC games.
| | | | | | |
| --- | --- | --- | --- | --- | --- |
| Season | Wins | Losses | Pct | Notes | ACC |
| 2015-2016 | 4 | 5 | .444 | Coached during Jim Boeheim's 9 game suspension | 0-3 |
| 1 year | 4 | 5 | .444 | 0 NCAA | 0-3 |
Hopkins surprised the Syracuse community when in March of 2017 he announced he was taking the head coaching job at the University of Washington.
© RLYoung 2006, 2007, 2014, 2015, 2016, 2017