| | |
| --- | --- |
| HS: Brooklyn Tech | Brooklyn, NY |
| | |
| --- | --- |
| Born: 1/11/1971 | New York, NY |
Season Stats

| Season | Cl | Pos | G | GS | Min | FG | FGA | % | FT | FTA | % | 3Pt | 3PA | % | Asst | Reb | DReb | OReb | Fls | DQ | TO | ST | BS | Pts | PPG | APG | RPG |
| --- | --- | --- | --- | --- | --- | --- | --- | --- | --- | --- | --- | --- | --- | --- | --- | --- | --- | --- | --- | --- | --- | --- | --- | --- | --- | --- | --- |
| 1989-90 | Fr | C | 16 | 0 | 148 | 8 | 17 | 47.1% | 15 | 24 | 62.5% | 0 | 0 | 0.0% | 4 | 32 | 25 | 7 | 28 | 4 | 2 | 4 | 16 | 31 | 1.9 | 0.3 | 2.0 |
| 1990-91 | So | C | 32 | 0 | 517 | 57 | 105 | 54.3% | 46 | 74 | 62.2% | 0 | 2 | 0.0% | 14 | 135 | 74 | 61 | 81 | 2 | 21 | 22 | 42 | 160 | 5.0 | 0.4 | 4.2 |
| 1991-92 | Jr | C | 28 | 11 | 824 | 87 | 161 | 54.0% | 121 | 174 | 69.5% | 0 | 1 | 0.0% | 24 | 174 | 84 | 90 | 109 | 0 | 26 | 41 | 69 | 243 | 8.7 | 0.9 | 6.2 |
| 1992-93 | Sr | C | 29 | 19 | 839 | 130 | 232 | 56.0% | 83 | 137 | 60.6% | 1 | 3 | 33.3% | 13 | 192 | 107 | 85 | 90 | 2 | 43 | 33 | 76 | 344 | 11.9 | 0.4 | 6.6 |
| Career | | | 105 | 47 | 2328 | 282 | 515 | 54.8% | 265 | 409 | 64.8% | 1 | 6 | 16.7% | 55 | 533 | 290 | 284 | 308 | 8 | 92 | 100 | 203 | 778 | 7.4 | 0.5 | 5.1 |
Conrad McRae was a wiry shot blocking center for Syracuse basketball for four seasons. 'McNasty' was known for his quick jumping ability and his flashy blocked shots. He was popular with the fans for his enthusiasm on the court.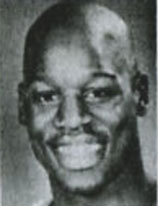 McRae came to Syracuse with very raw talent. He was quick to block shots, but often out of position for rebounding and defense, and was very unpolished offensively. He saw very little playing time his freshman season with veterans Derrick Coleman and LeRon Ellis entrenched in the starting lineup, and sophomore Richie Manning the top reserve.
McRae's collegiate reputation as a shot blocker started his sophomore season. He was still a backup to Ellis, and would play about fifteen minutes a game. However, in his limited time, he would block 42 shots.
McRae would split the center starting position with classmate Dave Siock his junior and senior seasons. Siock and McRae started about the same number of games those two seasons, but often by the three or four minute mark of the game, coach Jim Boeheim would have pulled Siock, and McRae was inserted. More often then not, McRae would finish the game at that point, and he ended up with over twice as much playing time as Siock each season. McRae would have a career high 21 points in a one point win over Villanova his senior year.
McRae was not developing any true offensive game, though he did know to play within his limitations. He was shooting at a high percentage with most of his baskets dunks. His rebounding improved, though he was still hampered by the tendency to go for the block shot, and leave his rebounding positioning. When his career ended at Syracuse he was fourth on the all-time blocked shot list, behind Roosevelt Bouie, Rony Seikaly and Derrick Coleman.
McRae would be drafted in the 2nd round of the 1993 NBA draft by the Washington Bullets with the 38th overall pick. He would fail to make the team, and instead would play several years in Europe in Italy, Greece and Turkey.
McRae signed a 10 day contract with the the Denver Nuggets in 1999. However, it would be voided after he had two blackouts during his practices. The following year he tried to make the NBA again, playing for the Orlando Magic's summer league team. He would collapse on the court during practice, dying of a heart attack at the age of 29.
© RLYoung 2007, 2018