| | |
| --- | --- |
| HS: American School | Athens, Greece |
| | |
| --- | --- |
| Born: 5/10/1965 | Beirut, Lebanon |
Season Stats

| Season | Cl | Pos | G | GS | Min | FG | FGA | % | FT | FTA | % | 3PT | 3PA | 3P% | Asst | Reb | Fls | DQ | TO | ST | BS | Pts | PPG | APG | RPG |
| --- | --- | --- | --- | --- | --- | --- | --- | --- | --- | --- | --- | --- | --- | --- | --- | --- | --- | --- | --- | --- | --- | --- | --- | --- | --- |
| 1984-85 | Fr | C | 31 | 31 | 775 | 96 | 177 | 54.2% | 58 | 104 | 55.8% | | | | 13 | 198 | 117 | 11 | 51 | 12 | 59 | 250 | 8.1 | 0.4 | 6.4 |
| 1985-86 | So | C | 32 | 32 | 875 | 122 | 223 | 54.7% | 80 | 142 | 56.3% | | | | 15 | 250 | 114 | 8 | 62 | 25 | 97 | 324 | 10.1 | 0.5 | 7.8 |
| 1986-87 | Jr | C | 38 | 35 | 1032 | 216 | 380 | 56.8% | 141 | 235 | 60.0% | 0 | 1 | 0.0% | 36 | 311 | 112 | 3 | 75 | 28 | 78 | 573 | 15.1 | 1.0 | 8.2 |
| 1987-88 | Sr | C | 35 | 35 | 1084 | 218 | 385 | 56.6% | 133 | 234 | 56.8% | 0 | 0 | --- | 22 | 335 | 105 | 1 | 87 | 23 | 85 | 569 | 16.3 | 0.6 | 9.6 |
| Career | | | 136 | 133 | 3766 | 652 | 1165 | 56.0% | 412 | 715 | 57.6% | 0 | 1 | 0.0% | 86 | 1094 | 448 | 23 | 275 | 88 | 319 | 1716 | 12.6 | 0.6 | 8.0 |
Rony Seikaly was one of the most dominating centers in Syracuse basketball history, though it took couple of seasons for him to develop into that role. He was a dominating scorer inside and strong rebounder, though a weak free throw shooter.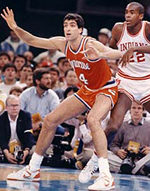 Seikaly was born in Lebanon but grew up in Greece. He came to the United States for high school, and learned to play basketball while attending school in Massachusetts. Prior to learning basketball he was a good soccer player and track athlete. He returned back to Greece to attend the American School for a couple of years. Meanwhile, he played as an amateur in the Greek professional leagues for 2 1/2 seasons, working on improving his game.
Seikaly joined the Syracuse basketball team in December 1983. He was a raw talent, so Coach Jim Boeheim redshirted him for the season. He immediately was a starter his freshman year, replacing senior Andre Hawkins at the position. Seikaly would show flashes of athletic ability, but was very foul prone, fouling out of a third of the games, and playing just 25 minutes a game. His offensive skills basically contained one shot, which was a two handed tomahawk dunk.
Seikaly would steadily improve each year in college, becoming a tremendous rebounder and shot blocker, though he would still be inconsistent in his play. A common sight was to see Seikaly sitting on the bench getting a earful of comments from Coach Boeheim. Prior to his junior season, he would have a stress fracture in his leg that would cause him to miss a lot of preseason practice, and it would hamper his early season play. As the season progressed he would play into shape, and his game would become stronger.
It was in the NCAA tournament his junior year that Seikaly put his game together. Fueled by some caustic remarks by announcer Brent Musberger, Seikaly exploded for 33 points against Florida and the Gators' highly touted Duane Schintzius. Staying on a roll, Seikaly helped Syracuse knock off the favored North Carolina Tar Heels with 26 points and 11 rebounds, leading the Orangemen to the Final Four. The Orangemen would eventually lose to Indiana in the championship game, but Seikaly dominated throughout most the tournament.
Seikaly played his senior season with a more consistent game, with strong efforts most nights. He would lead the Orangemen in scoring, twice breaking the 30 point mark. He and Derrick Coleman would provide a dominating front line. Seikaly had learned to make the ten foot jumper, and also a nice finger roll to go along with his dunks. He would help Syracuse win the Big East Championship, before they moved on to the NCAA tournament. Fortune was not kind to the Orangemen as Sherman Douglas was ill in both games, but Seikaly played well in both efforts.
He would be named to the All Big East 2nd team both his junior and senior season. When he graduated, Seikaly was the second leading rebounder in Syracuse history (behind Coleman), and the fourth leading scorer (behind Erich Santifer, Rafael Addison and Dave Bing).
Seikaly was the 9th pick in the first round of the 1988 NBA Draft, taken by the Miami Heat. He would be a solid center in the league for eleven seasons with Miami (1989-94), Golden State (1995-96), Orlando (1997-98) and New Jersey (1998). He was a small center by NBA standards, but more athletic and quicker than most. In 1990 he was recognized as the NBA's Most Improved Player.
NBA Career Statistics

| Pos | G | Min | FG | FGA | % | FT | FTA | % | 3FG | 3FA | 3% | Asst | Reb | Fls | DQ | TO | ST | BS | Pts | PPG | APG | RPG |
| --- | --- | --- | --- | --- | --- | --- | --- | --- | --- | --- | --- | --- | --- | --- | --- | --- | --- | --- | --- | --- | --- | --- |
| Center | 678 | 21,395 | 3,647 | 7,540 | 48.4% | 2,691 | 3,961 | 67.9% | 6 | 32 | 18.8% | 860 | 6,424 | 2,341 | | 1,913 | 453 | 15 | 9,991 | 14.7 | 1.3 | 9.5 |
Seikaly would be named to the Syracuse University All Century team in 2000. His uniform would be retired on January 13, 2007, the seventh Syracuse basketball player given that honor.
Seikaly would be heavily involved in real estate investments and restaurants in the Miami area following retirement. He also became prominent on the nightclub scene as a DJ.
© RLYoung 2006, 2007, 2012