| | |
| --- | --- |
| HS: Spingarn | Washington, DC |
| | |
| --- | --- |
| Born:11/24/1943 | Washington, DC |
Season Stats

| Season | Cl | Pos | G | GS | FG | FGA | % | FT | FTA | % | Asst | Reb | Fls | DQ | Pts | PPG | APG | RPG |
| --- | --- | --- | --- | --- | --- | --- | --- | --- | --- | --- | --- | --- | --- | --- | --- | --- | --- | --- |
| 1963-64 | So | G | 25 | 25 | 215 | 460 | 46.7% | 126 | 172 | 73.3% | - | 206 | 60 | - | 556 | 22.2 | --- | 8.0 |
| 1964-65 | Jr | G | 23 | 23 | 206 | 444 | 46.4% | 121 | 162 | 74.7% | - | 277 | 59 | - | 533 | 23.2 | --- | 12.4 |
| 1965-66 | Sr | G | 28 | 28 | 308 | 569 | 54.1% | 178 | 222 | 80.2% | 185 | 303 | 61 | - | 794 | 28.4 | 6.6 | 10.2 |
| Career | | | 76 | 76 | 729 | 1,473 | 49.5% | 425 | 556 | 76.4% | 185 | 786 | 180 | 0 | 1,883 | 24.8 | --- | 10.3 |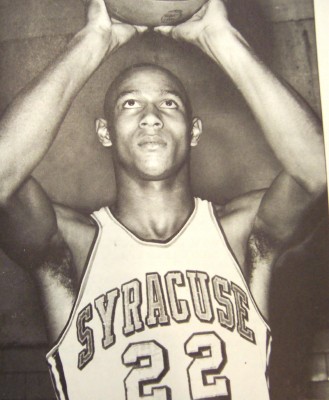 Dave Bing, the greatest player in Syracuse history, could do it all on and off the court. He led the Orangemen in scoring all three years, and was the all-time leading scorer until Sherman Douglas came along two decades later. Bing was a prolific scorer with a sweet shooting touch, but also a fantastic passer (if assists were official statistics throughout his career he would have racked up quite a few), and a phenomenal rebounder. As one NBA scout said, Bing may not have been the best at anything, but nobody was able to do as much as him.
Bing was a terrific player coming out of Washington D.C., with schools such as UCLA and Michigan recruiting him. However, the legendary Ernie Davis convinced him to come to Syracuse; that, and Bing's own concern that he would get more playing time at a lower profile school.
Bing would electrify fans during his freshman season on the frosh team, and routinely more fans would show up to the freshman game than the varsity game that season. Bing would average 25.7 points a game as a freshman along with 11.3 rebounds.
With Bing as the catalyst, SU went from an 8-13 struggling program to a 22-6 NCAA contender, and a team that led the nation in scoring. As a senior Bing was named All-American, was 5th in the nation in scoring with 28.4 ppg, an SU record.
Bing would be the 2nd player taken in the NBA draft that spring. He was no disappointment as he won the Rookie of the Year honors. Not willing to settle there, Bing led the NBA in scoring his sophomore year, becoming the first guard to do it in 20 years, beating out legendary scorers such as Wilt Chamberlain and Elgin Baylor.
Bing would play 12 seasons in the NBA primarily with the Detroit Pistons, but also with the Washington Bullets and Boston Celtics. He was inducted into the Basketball Hall of Fame in 1980, after an NBA career with the following impressive stats:
NBA Career Statistics

| Pos | G | Min | FG | FGA | % | FT | FTA | % | Asst | Reb | Fls | DQ | TO | ST | BS | Pts | PPG | APG | RPG |
| --- | --- | --- | --- | --- | --- | --- | --- | --- | --- | --- | --- | --- | --- | --- | --- | --- | --- | --- | --- |
| Guard | 901 | 32,769 | 6,962 | 15,769 | 44.1% | 4,403 | 5,683 | 77.5% | 5,397 | 3,420 | 2,615 | 22 | --- | 483 | 89 | 18,327 | 20.3 | 6.0 | 3.8 |
His #21 was retired by the Detroit Pistons, and he was the first player to have his uniform retired at Syracuse, #22. Bing was 7 times an NBA All-Star and named to the NBA's 50th anniversary All-Time team in 1996. He was named to Syracuse University's All Century team.
Dave Bing's success did not end after basketball. During the off-seasons from basketball he worked for local banks in Detroit, Chrysler corporation, and small steel companies. In 1980 he founded Bing Steel in Detroit, and by the end of the decade the company had grown to annual sales of $61 million.
In 1989, the city of Detroit threatened to cancel the public school athletic programs as part of a budget cutback. Bing launched a campaign that raised more than $370,000 to save the programs.
In 2009 Bing won a special election to become the mayor of Detroit, Michigan.
Oscar Robertson said of Bing: "Dave is the perfect example of professionalism, class, dignity, and humanity. He cares. He gets involved in the world."
©RLYoung 2005, 2009