| | | |
| --- | --- | --- |
| 6'4" | 180 lbs | Guard/Forward |
| | |
| --- | --- |
| Born: 11/2/1961 | Ann Arbor, MI |
Season Stats

| Season | Cl | Pos | G | GS | Min | FG | FGA | % | FT | FTA | % | Asst | Reb | Fls | DQ | TO | ST | BS | Pts | PPG | APG | RPG |
| --- | --- | --- | --- | --- | --- | --- | --- | --- | --- | --- | --- | --- | --- | --- | --- | --- | --- | --- | --- | --- | --- | --- |
| 1979-80 | Fr | F | 30 | 16 | - | 137 | 266 | 51.5% | 46 | 69 | 66.7% | 45 | 98 | 64 | 0 | - | 32 | - | 320 | 10.7 | 1.5 | 3.3 |
| 1980-81 | So | G/F | 34 | 25 | 973 | 192 | 362 | 53.0% | 94 | 128 | 73.4% | 45 | 152 | 84 | 1 | 71 | 62 | 10 | 478 | 14.0 | 1.3 | 4.5 |
| 1981-82 | Jr | G | 29 | 29 | 979 | 203 | 364 | 55.8% | 87 | 117 | 74.4% | 55 | 161 | 68 | 1 | 93 | 41 | 7 | 493 | 17.0 | 1.9 | 5.6 |
| 1982-83 | Sr | G | 31 | 31 | 975 | 210 | 370 | 56.7% | 134 | 168 | 79.8% | 103 | 154 | 74 | 3 | 80 | 46 | 6 | 554 | 17.8 | 3.3 | 5.0 |
| Career | | | 124 | 101 | +2927 | 742 | 1362 | 54.5% | 361 | 482 | 74.9% | 248 | 565 | 290 | 5 | +244 | 181 | +23 | 1845 | 14.9 | 2.0 | 4.6 |
Erich Santifer was a starter for most of his four years at Syracuse, usually in the backcourt as the shooting guard. Santifer's forte however was his tremendous ability to score along the baseline. It was a familiar sight to see forward Leo Rautins at the top of the key sending a bullet pass to Santifer as he maneuvered along the baseline. Santifer ran well on the fast break, and consistently had a high shooting percentage. He was a solid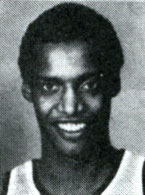 free shooter, improving to nearly 80% by his last season.
As a freshman, he had the opportunity to start at forward alongside the Bouie & Louie Show. In the first round of the NCAA tournament, he had his breakout game, going 13-15 from the floor and leading the team with 29 points in a victory over Villanova.
By time he was a junior, Santifer was playing guard almost exclusively and was a tri-captain with Rautins and Red Bruin. While not as flashy as Bruin, nor multitalented as Rautins, he was the Orangemen's leading scoring his junior and senior seasons, and finished his career as the #2 all-time scorer at Syracuse, second to Dave Bing (several players have passed Santifer since). Santifer was named to the Big East Conference first team his senior season, and the Big East second team his junior year.
Santifer was drafted in the 3rd round of the 1983 NBA draft by the Detroit Pistons with the 55th overall pick He would, however, never play in the NBA.
© RLYoung 2005, 2006, 2007, 2017