| | |
| --- | --- |
| HS: Mater Christi | Astoria, NY |
Season Stats

| Season | Cl | Pos | G | GS | Min | FG | FGA | % | FT | FTA | % | Asst | Reb | Fls | DQ | TO | ST | BS | Pts | PPG | APG | RPG |
| --- | --- | --- | --- | --- | --- | --- | --- | --- | --- | --- | --- | --- | --- | --- | --- | --- | --- | --- | --- | --- | --- | --- |
| 1979-80 | Fr | F | 24 | 0 | - | 58 | 141 | 41.1% | 30 | 40 | 75.0% | 31 | 45 | 45 | 0 | - | - | - | 146 | 6.1 | 1.3 | 1.9 |
| 1980-81 | So | F | 33 | 18 | 771 | 150 | 272 | 55.2% | 89 | 130 | 68.5% | 34 | 111 | 92 | 6 | 77 | 16 | 20 | 389 | 11.8 | 1.0 | 3.4 |
| 1981-82 | Jr | F | 26 | 24 | 725 | 126 | 249 | 50.6% | 111 | 144 | 77.1% | 49 | 102 | 98 | 9 | 63 | 25 | 15 | 363 | 14.0 | 1.9 | 3.9 |
| 1982-83 | Sr | F | 29 | 29 | 774 | 146 | 277 | 52.7% | 104 | 154 | 67.5% | 59 | 152 | 90 | 4 | 61 | 26 | 8 | 396 | 13.7 | 2.0 | 5.2 |
| Career | | | 112 | 71 | +2270 | 480 | 930 | 51.6% | 334 | 468 | 71.4% | 173 | 410 | 325 | 19 | +201 | +67 | +43 | 1294 | 11.6 | 1.5 | 3.7 |
Tony Bruin was one of the most highly recruited players in Syracuse history. A high school phenomenon, 'Red' (so called because of the reddish tint to his hair) was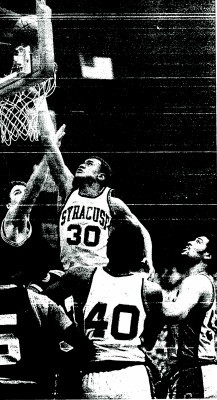 a gifted athlete with a tremendous vertical leap. He was a high school All-American, and won the National AAU Junior Men's Championship in 1979, awarded the tournament's MVP.
He had a successful career at Syracuse, and was one of the tri-captains his junior and senior seasons, though he he never lived up to the high expectations that preceded his arrival to campus.
Bruin had a tendency to have big games during nationally televised games, in an era when most Syracuse games were not televised. With his vertical leap, he was a spectacular player near the hoop, especially above the rim with several highlight slam dunks. His perimeter shooting was peculiar in that he put virtually no rotation on his shots; in essence he shot a "knuckle ball". Even with the unorthodox shooting style, he was a solid free throw shooter.
He missed portions of his junior and senior seasons due to injury.
Bruin was drafted by the Philadelphia 76'ers in the 7th round of the 1983 draft, though he never played in the NBA.
© RLYoung 2005, 2006, 2017