| | | |
| --- | --- | --- |
| 6'7" | 230 lbs | Forward/Guard |
Season Stats

| Season | Cl | Pos | G | GS | Min | FG | FGA | % | FT | FTA | % | 3Pt | 3PA | % | Asst | Reb | DReb | OReb | Fls | DQ | TO | ST | BS | Pts | PPG | APG | RPG |
| --- | --- | --- | --- | --- | --- | --- | --- | --- | --- | --- | --- | --- | --- | --- | --- | --- | --- | --- | --- | --- | --- | --- | --- | --- | --- | --- | --- |
| 1994-95 | Fr | F | 27 | 0 | 300 | 38 | 80 | 47.5% | 21 | 32 | 65.6% | 12 | 31 | 38.7% | 14 | 59 | 35 | 24 | 45 | 0 | 23 | 16 | 3 | 109 | 4.0 | 0.5 | 2.2 |
| 1995-96 | So | F/G | 38 | 38 | 1300 | 158 | 375 | 42.1% | 94 | 151 | 62.3% | 49 | 144 | 34.0% | 87 | 260 | 173 | 87 | 108 | 3 | 77 | 64 | 15 | 459 | 12.1 | 2.3 | 6.8 |
| 1996-97 | Jr | F | 25 | 25 | 844 | 125 | 318 | 39.3% | 78 | 113 | 69.0% | 49 | 135 | 36.3% | 66 | 189 | 124 | 65 | 72 | 5 | 84 | 40 | 7 | 377 | 15.1 | 2.6 | 7.6 |
| 1997-98 | Sr | F | 35 | 35 | 1283 | 196 | 485 | 40.4% | 155 | 207 | 74.9% | 68 | 186 | 36.6% | 114 | 247 | 156 | 91 | 93 | 2 | 102 | 72 | 8 | 615 | 17.6 | 3.3 | 7.1 |
| Career | | | 125 | 98 | 3727 | 517 | 1258 | 41.1% | 348 | 503 | 69.2% | 178 | 496 | 35.9% | 281 | 755 | 488 | 267 | 318 | 10 | 286 | 192 | 33 | 1560 | 12.5 | 2.2 | 6.0 |
Todd Burgan was a small forward for Syracuse basketball for four seasons. Burgan was the classic swingman at 6'7" and long arms, with a smooth jump shot, and the ability to drive to the hoop. He developed into a decent free throw shooter by the end of his career, and became the 'go to' guy on offense his senior year. He was a solid defender and adept at picking off passes and stealing the ball.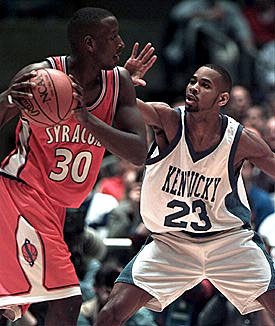 Burgan would lead Pershing High school to two Michigan state championships.
Syracuse had a veteran team Burgan's freshman year, with seniors Lawrence Moten and Luke Jackson, and junior John Wallace ahead of Burgan at the positions he would play. Burgan would manage to get about ten minutes a game of playing time, and average a healthy four points during that time. More importantly he earned valuable playing time that would help him develop. He was a nice change-of-pace player his freshman year for Syracuse, a slashing player different in the mold than the upper classmen ahead of him.
Burgan would become a vital cog in the Final Four run his sophomore season. Three of the teams top four scorers, Moten, Jackson and Michael Lloyd had left the team, and Syracuse needed more offense to compliment Wallace. Burgan would score 12.1 points that year, play some stellar defense, along with grab critical rebounds and offer some additional perimeter shooting. In the Final Four, he would score 19 points against Mississippi State, and in the Championship game he would again score 19 points, before fouling out late.
Burgan was counted on to blossom his junior year. He would play in the first ten games his junior year, and then would miss seven games after being suspended by the university for misconduct with a female student. There were issues on which player on the team was the 'go to' player on offense between Jason Cipolla, Otis Hill and Burgan, which led to a struggling offense. And then Burgan would hurt his finger in the Big East Tournament, which hampered his play there and in the subsequent NIT. Against Florida State, Burgan would play only seven minutes and fail to score, because of his injury, as the Orangemen lost 82-67. Overall, his season struggled with the suspension and injury.
Burgan became the definitive point of focus for the offense his senior year, leading the Orangemen in scoring in 23 of the 35 games played, with a team high 17.6 points a game. He had improved his free throw shooting to a respectable 74%, and was second on the team in assists, rebounds, and three point shots made. He would set a Syracuse single game record with 10 steals against Colgate on November 30th that year. He was also one of the star defensive players on the team, a Syracuse team that was very strong in defense with Burgan, Jason Hart, Etan Thomas and Ryan Blackwell in the starting lineup.
Burgan would lead the Orangemen in scoring in all three Big East tournament games, scoring 42 points in the three games. Syracuse would meet #6 Connecticut in the finals, which the Huskies would win by a narrow margin 69-64. Syracuse would play Iona in the first round of the NCAA tournament, and the underdog Iona team held a 1 point team in the last minute. Burgan saved a loose ball from going out of bounds, and then passed it back to Marius Janulis, who would shoot and make the game winning three point shot. Syracuse would lose to Duke in the Sweet Sixteen, despite 20 points from Burgan.
Burgan would earn Second Team Big East Honors his senior year.
After Syracuse, Burgan would play international basketball for three seasons, in Finland, Lebanon and France. He would return to the United States in 2002 for a stint with the Detroit Wheels of the ABA.
© RLYoung 2010, 2018