| | |
| --- | --- |
| HS: Greece-Athena | Rochester, NY |
| | |
| --- | --- |
| Born: 2/9/1974 | Rochester, NY |
Season Stats

| Season | Cl | Pos | G | GS | Min | FG | FGA | % | FT | FTA | % | 3Pt | 3PA | % | Asst | Reb | DReb | OReb | Fls | DQ | TO | ST | BS | Pts | PPG | APG | RPG |
| --- | --- | --- | --- | --- | --- | --- | --- | --- | --- | --- | --- | --- | --- | --- | --- | --- | --- | --- | --- | --- | --- | --- | --- | --- | --- | --- | --- |
| 1992-93 | Fr | F | 29 | 29 | 863 | 130 | 247 | 52.6% | 61 | 85 | 71.9% | 0 | 1 | 0.0% | 38 | 221 | 145 | 76 | 75 | 2 | 92 | 34 | 39 | 321 | 11.1 | 1.3 | 7.6 |
| 1993-94 | So | F | 30 | 30 | 979 | 164 | 290 | 56.6% | 121 | 159 | 76.1% | 0 | 2 | 0.0% | 50 | 270 | 193 | 77 | 90 | 4 | 93 | 28 | 52 | 449 | 15.0 | 1.7 | 9.0 |
| 1994-95 | Jr | F | 30 | 30 | 990 | 197 | 335 | 58.8% | 106 | 156 | 68.0% | 4 | 14 | 28.6% | 77 | 245 | 159 | 86 | 80 | 4 | 91 | 39 | 55 | 504 | 16.8 | 2.6 | 8.2 |
| 1995-96 | Sr | F | 38 | 38 | 1379 | 293 | 599 | 48.9% | 222 | 291 | 76.3% | 37 | 88 | 42.1% | 90 | 329 | 241 | 88 | 94 | 1 | 122 | 44 | 63 | 845 | 22.2 | 2.4 | 8.7 |
| Career | | | 127 | 127 | 4211 | 784 | 1471 | 53.3% | 510 | 691 | 73.8% | 41 | 105 | 39.0% | 255 | 1065 | 738 | 327 | 339 | 11 | 398 | 145 | 209 | 2119 | 16.7 | 2.0 | 8.4 |
John Wallace was a dominating power forward with a well rounded game. He had the ability to carry the Syracuse team on his back for significant portions of games. Wallace was a steady free throw shooter, and developed into a perimeter shooting threat while at Syracuse.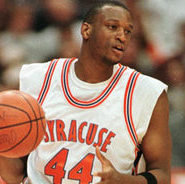 Wallace was the New York state high school player of the year his senior year at Greece-Athena High School after leading his team to an unbeaten record and the New York state championship.
Wallace was inserted into the starting line up the first game of his freshman season, and would stay there four years. His freshman season he focused primarily on playing near the hoop, and it paid off as he lead the team in rebounding. Wallace was named to the Big East all-rookie team that year.
Wallace improved his basketball skills each year at Syracuse. As a sophomore, he became more aggressive around the hoop, increasing his scoring and the frequency that he went to the free throw line. He earned a berth on the Big East All-Second Team squad.
As a junior, Wallace started displaying strong team leadership, and excellent passing skills for a big man. He started to move his game outside the paint, to take advantage of the defensive schemes, and his ability to pass the ball down low to players like Lawrence Moten and Luke Jackson, who would be cutting to the basket. After Wallace's junior year, there was much speculation that he might decide to turn professional. He had been named first team All-Big East, he was projected as a mid first round NBA pick, and Syracuse's returning squad was already weakened by the loss of three starters. However, Wallace wanted his degree and wanted to improve his game, so he announced he was staying for a fourth year.
Wallace's fourth season was a magical one for him and the Orangemen. He would finish the season averaging 22 points a game, and leading the team in scoring thirty of the thirty eight games they played. Five times Wallace would score 30+ points in a game. Wallace had worked on his perimeter shooting over the summer, and he now was a threat from three point range; he would make 42% of his long distance shots on the season. Wallace would once again be named to the All Big East First Team.
In the NCAA tournament, Wallace turned his game up a notch, and started carrying the Orangemen along on a wonderful ride, with some help from some of his teammates in clutch situations. Against Georgia in the Sweet Sixteen, Wallace made a beautiful pass to Jason Cipolla, who hit a seventeen foot shot sending the game into overtime. With Syracuse down by a point. Wallace took the inbound pass, dribbled down the court through heavy defensive pressure and made a three point shot with 7 seconds remaining, to give Syracuse one of its most dramatic wins in school history. Wallace would end that game with 30 points on 10 of 18 shooting, and 15 rebounds.
Wallace would continue to play big, and Syracuse would reach the National Championship game against Kentucky. He had a huge game that night, scoring 29 points and pulling down 10 rebounds, but ultimately, he would foul out with two minutes left in the game, and Syracuse would end up losing. He would be named to the NCAA all-tournament team. Wallace finished his career as Syracuse's #3 all time leading scorer behind Lawrence Moten and Derrick Coleman, and also as the school's #3 all time leading rebounder.
Wallace would be drafted in the first round of the 1996 NBA draft, with the 18th selection by the New York Knicks. He would bounce around the league playing for the Knicks (1997 & 2000), Toronto (1998-1999), Detroit (2001), Phoenix (2002) and Miami (2004). Wallace was a starter for only one season, in 1998 with Toronto where he averaged 14.0 ppg.
NBA Career Statistics

| Pos | G | Min | FG | FGA | % | FT | FTA | % | Asst | Reb | Fls | DQ | TO | ST | BS | Pts | PPG | APG | RPG |
| --- | --- | --- | --- | --- | --- | --- | --- | --- | --- | --- | --- | --- | --- | --- | --- | --- | --- | --- | --- |
| Forward | 381 | 6,143 | 1,152 | 2,496 | 46.2% | 582 | 786 | 74.0% | 281 | 1,061 | 706 | - | 470 | 134 | 216 | 2,901 | 7.6 | 0.7 | 2.8 |
After his NBA career was done, he would play basketball in Europe in the Italian league. He had two small parts in the movies He Got Game (1998) and Bamboozled (2000).
Wallace was named to the Syracuse All Century Team in 2000.
© RLYoung 2006, 2007