| | |
| --- | --- |
| HS: Pittsford-Sutherland | Pittsford, NY |
| | |
| --- | --- |
| Born: 12/18/1976 | Evanston, IL |
Season Stats

| Season | Cl | Pos | G | GS | Min | FG | FGA | % | FT | FTA | % | 3Pt | 3PA | % | Asst | Reb | DReb | OReb | Fls | DQ | TO | ST | BS | Pts | PPG | APG | RPG |
| --- | --- | --- | --- | --- | --- | --- | --- | --- | --- | --- | --- | --- | --- | --- | --- | --- | --- | --- | --- | --- | --- | --- | --- | --- | --- | --- | --- |
| 1997-98 | So | F | 35 | 35 | 1225 | 162 | 339 | 47.8% | 106 | 154 | 68.8% | 11 | 32 | 34.9% | 79 | 288 | 186 | 102 | 71 | 3 | 90 | 50 | 12 | 441 | 12.6 | 2.3 | 8.2 |
| 1998-99 | Jr | F | 33 | 33 | 1096 | 135 | 305 | 44.3% | 99 | 137 | 72.3% | 18 | 53 | 34.0% | 86 | 259 | 164 | 95 | 63 | 2 | 108 | 41 | 11 | 387 | 11.7 | 2.6 | 7.8 |
| 1999-00 | Sr | F/C | 32 | 32 | 1079 | 120 | 280 | 42.9% | 98 | 144 | 68.1% | 9 | 35 | 25.7% | 99 | 230 | 140 | 90 | 50 | 0 | 76 | 44 | 6 | 347 | 10.8 | 3.1 | 7.2 |
| Career | | | 100 | 100 | 3400 | 417 | 924 | 45.1% | 303 | 435 | 69.7% | 38 | 120 | 31.7% | 264 | 777 | 490 | 287 | 184 | 5 | 274 | 135 | 29 | 1175 | 11.8 | 2.6 | 7.8 |
Ryan Blackwell was a versatile forward who started three seasons for Syracuse. Blackwell was a hard working player, who did all of the little things well. He was a good ball handler, strong defender, and strong rebounder.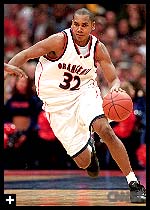 Blackwell played basketball as a freshman at the University of Illinois. He was unhappy with the style of play and his playing time, so he transferred to Syracuse after that season. He had played 30 games at Illinois (all as a reserve), scoring 118 points, for an average of 3.9 ppg.
Blackwell made an immediate impact on the Syracuse basketball team, leading the team in rebounding his sophomore year. He was a excellent defender and was often responsible for guarding the best big man on the other team. With his ball handling skills, Blackwell was often called upon to help bring the ball up the court to break the press. In the Big East Tournament, Blackwell would play stellar. He would have 16 rebounds in the first round against Villanova. In the second game, Blackwell would hit the game winning shot at the end of overtime to beat St. John's
He would lead the team in rebounding again his junior season, along with most minutes played. During his senior season, Blackwell helped the Orangemen win the Big East regular season championship. He was named to the All Big East Third Team that season.
Blackwell would play professional basketball overseas in Japan. From 2006 to 2008 he played for the Sendai 89ers.
Illinois Season Stats

| Season | Cl | Pos | G | GS | Min | FG | FGA | % | FT | FTA | % | 3Pt | 3PA | % | Asst | Reb | DReb | OReb | Fls | DQ | TO | ST | BS | Pts | PPG | APG | RPG |
| --- | --- | --- | --- | --- | --- | --- | --- | --- | --- | --- | --- | --- | --- | --- | --- | --- | --- | --- | --- | --- | --- | --- | --- | --- | --- | --- | --- |
| 1995-96 | Fr | F | 30 | 0 | 376 | 39 | 106 | 36.8% | 34 | 45 | 75.6% | 6 | 19 | 31.6% | 23 | 86 | - | - | 36 | - | 18 | 9 | 6 | 118 | 3.9 | 0.8 | 2.9 |
| Career | | | 30 | 0 | 376 | 39 | 106 | 36.8% | 34 | 45 | 75.6% | 6 | 19 | 31.6% | 23 | 86 | - | - | 36 | - | 18 | 9 | 6 | 118 | 3.9 | 0.8 | 2.9 |
© RLYoung 2006, 2007, 2011, 2014