| | |
| --- | --- |
| HS: DeWitt Clinton | Bronx, NY |
| | |
| --- | --- |
| Born: 2/13/1918 | Washington, D.C. |
Season Stats

| Season | Cl | Pos | G | GS | FG | FGA | % | FT | FTA | % | Fls | DQ | Pts | PPG |
| --- | --- | --- | --- | --- | --- | --- | --- | --- | --- | --- | --- | --- | --- | --- |
| 1936-37 | So | G | 13 | 3 | 4 | | | 4 | | | | | 12 | 0.9 |
| 1937-38 | Jr | G/F | +10 | | | | | | | | | | 20 | 0.0 |
| 1938-39 | Sr | G | 17 | 16 | 62 | | | 22 | | | | | 146 | 8.6 |
| Career | | | +40 | +19 | +66 | 0 | 0.0 | +26 | 0 | 0.0 | 0 | 0 | 178 | 0.0 |
Wilmeth Sidat-Singh was the first star African-American athlete at Syracuse University. He was a dominating player in both basketball and football, playing guard for basketball and quarterback in football. The basketball team went 40-13 during his career. He was lightning quick on both offense and defense. During his senior season, he led the team in scoring.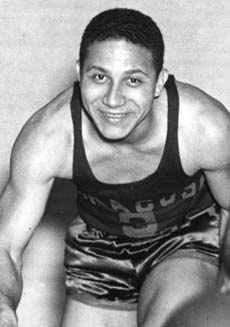 Sidat-Singh was born as William Webb, but his father died when he was a child. His mother, Pauline Webb, then married Dr. Samuel Sidat-Singh, who adopted Wilmeth and moved the family to Harlem . Sidat-Singh was an All-New York City basketball player at DeWitt Clinton High School in the Bronx . He helped the Governors to the Public School Athletic League (PSAL championship in 1933-34. He came to the University on a basketball scholarship and excelled in the sport. After a football assistant coach spotted him in an intramural game, he was encouraged to join the Orange grid squad.
Sidat-Singh started his football career as a sophomore and played singlewing halfback, a position similar to today's quarterback. He was the victim of segregation on a number of occasions. When SU played at Maryland and at the U.S. Naval Academy, the host schools refused to play Syracuse unless Sidat-Singh sat out. A season after he missed the game at Maryland , Sidat-Singh led SU to a 55-0 victory over the Terrapins at Archbold Stadium.
After graduation, Sidat-Singh played professional basketball with two barnstorming teams, the Syracuse Reds and the Harlem Renaissance. In 1943, Sidat-Singh passed the entrance exam for the U.S. Army Air Corps and was assigned to the segregated armed forces' only pilot training program for African-Americans – the Tuskegee Airmen. After earning his pilot's wings, he was on a training mission when the engine of his P-40 failed over Lake Huron and he died.
Sidat-Singh is buried at Arlington National Cemetery .
Syracuse University retired Sidat-Singh's jersey at halftime of the Syracuse-Providence game on February 26, 2005. He was the fifth player so honored, joining Dave Bing, Sherman Douglas, Vic Hanson and Pearl Washington.
© RLYoung 2005