| | |
| --- | --- |
| Born: 6/21/1967 | Mobile, AL |
Season Stats

| Season | Cl | Pos | G | GS | Min | FG | FGA | % | FT | FTA | % | 3Pt | 3PA | % | Asst | Reb | Fls | DQ | TO | ST | BS | Pts | PPG | APG | RPG |
| --- | --- | --- | --- | --- | --- | --- | --- | --- | --- | --- | --- | --- | --- | --- | --- | --- | --- | --- | --- | --- | --- | --- | --- | --- | --- |
| 1986-87 | Fr | F | 38 | 38 | 1163 | 173 | 309 | 56.0% | 107 | 156 | 68.6% | 0 | 0 | 0.0% | 45 | 333 | 120 | 8 | 67 | 45 | 68 | 453 | 11.9 | 1.2 | 8.8 |
| 1987-88 | So | F | 35 | 34 | 1133 | 176 | 300 | 58.7% | 121 | 192 | 63.0% | 1 | 6 | 16.7% | 76 | 384 | 84 | 2 | 76 | 45 | 57 | 474 | 13.5 | 2.2 | 11.0 |
| 1988-89 | Jr | C | 37 | 37 | 1226 | 227 | 395 | 57.5% | 171 | 247 | 69.2% | 0 | 8 | 0.0% | 106 | 422 | 120 | 5 | 89 | 46 | 127 | 625 | 16.9 | 2.9 | 11.4 |
| 1989-90 | Sr | F | 33 | 32 | 1166 | 194 | 352 | 55.1% | 188 | 263 | 71.9% | 15 | 41 | 36.6% | 95 | 398 | 102 | 2 | 90 | 51 | 67 | 591 | 17.9 | 2.9 | 12.1 |
| Career | | | 143 | 141 | 4688 | 770 | 1356 | 56.8% | 587 | 858 | 68.4% | 16 | 55 | 29.1% | 322 | 1537 | 426 | 17 | 322 | 187 | 319 | 2143 | 15.0 | 2.3 | 10.8 |
Derrick Coleman was one of the greatest all around basketball players in Syracuse history. 'DC' could do it all. A tall player with tremendous arm length, he was unparalleled at rebounding, pulling down more rebounds in his career than any other player in NCAA history (modern day). This despite playing alongside other great rebounders his entire career in Syracuse, sharing the rebounds with Rony Seikaly and Billy Owens, and having great offensive rebounders like Stephen Thompson around. Coleman brought a certain swagger and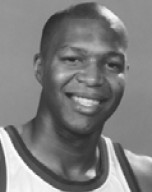 confidence to the court, something that would irritate opponents and their fans.
But Coleman was more than just a rebounder. He was an excellent ball handler for a man his size, and possessed a nice perimeter shot (particularly in the era when big men did not shoot from the outside). He was an dominating defensive presence, with quick feet, and an intimidating blocker. He was able to run the court well, and because of his ball handling, he was often used to help bring the ball up the court against full court press defenses. Coleman's scoring numbers are relatively low for a man of his ability, in part because he was an excellent team player, and in part because he shared the court with phenomenal scorers such as Douglas, Owens, Seikaly, and Thompson. Even with all that, when he left Syracuse, he held the Syracuse all time scoring record (since broken).
Coleman came to Syracuse from Detroit, as a skinny kid with a lot of potential. The legendary Dave Bing had mentored him during his high school days, helping DC develop, and eventually guiding him to Syracuse.
Coleman's freshman year was an eventful one. The expectations of the team were low, and yet the right mixture of talent was on the team. The team started out 15-0, ran through the Big East winning the regular season title (but losing in the Big East finals to Georgetown). Coleman would win the Big East Rookie of the Year honors. Then the team pulled the miraculous, and made a phenomenal run through the NCAA tournament reaching the championship game for the first time in school history. In the championship game, Coleman made a had a outstanding evening pulling down 19 rebounds (an NCAA freshman tournament record). Unfortunately for Syracuse, and Coleman, he missed the front end of a one-and-one free throw with about 30 seconds to go that would have sealed the victory for the Orangemen, instead watching Keith Smart hitting the game winning jumper with five seconds to go.
Coleman stayed at Syracuse all four years, helping the team to a school record 114 wins during that era, against only 30 losses. Along the way, the team would start his sophomore year as the #1 ranked team in the country and win the Big East Championship. As a junior, he moved to the center position replacing Seikaly, and played the position well. As a senior, Coleman would achieve a triple double against C.W. Post, and would be named the Big East Player of the Year, and would make first team All-American. Coleman would be the NCAA's all-time rebounding leader when he graduated (later eclipsed by Tim Duncan in 1997).
Overall, while at Syracuse he would be named to the Big East All Conference First Team 3 times, after making the third team as a freshman.
In 1990, after graduation, Coleman was the #1 pick in the NBA draft by the New Jersey Nets. He would have a solid NBA career, though considered by many to be disappointing if only because greatness was expected from him. He would win the NBA's Rookie of the Year award in 1991 and make the NBA All-Star team in 1994. His first five years in the league saw him averaging 20 points per game, with 10 1/2 rebounds a game, and a little over 3 assists per game. Injuries and weight problems would hamper him after that, though he was still a solid NBA player.
Coleman spent 15 years in the NBA with the New Jersey Nets, Philadelphia 76'ers, Charlotte Hornets and Detroit Pistons.
NBA Career Statistics

| Pos | G | Min | FG | FGA | % | FT | FTA | % | 3FG | 3FA | 3% | Asst | Reb | Fls | DQ | TO | ST | BS | Pts | PPG | APG | RPG |
| --- | --- | --- | --- | --- | --- | --- | --- | --- | --- | --- | --- | --- | --- | --- | --- | --- | --- | --- | --- | --- | --- | --- |
| Forward | 781 | 25,903 | 4,616 | 10,335 | 44.6% | 3,326 | 4,326 | 76.8% | 326 | 1,105 | 29.5% | 1,985 | 7,232 | 2,062 | | 2,036 | 606 | 1,051 | 12,884 | 16.5 | 2.5 | 9.3 |
Coleman would be named to the Big East Conference 25th anniversary first team in 2004, and to the Syracuse University All Century team in 2000. His uniform was retired by Syracuse University in March 2006.
© RLYoung 2005, 2006