| | |
| --- | --- |
| HS: Valley View | Archbold, PA |
| | |
| --- | --- |
| Born: 4/26/1978 | Jessup, PA |
Season Stats

| Season | Cl | Pos | G | GS | Min | FG | FGA | % | FT | FTA | % | 3Pt | 3PA | % | Asst | Reb | DReb | OReb | Fls | DQ | TO | ST | BS | Pts | PPG | APG | RPG |
| --- | --- | --- | --- | --- | --- | --- | --- | --- | --- | --- | --- | --- | --- | --- | --- | --- | --- | --- | --- | --- | --- | --- | --- | --- | --- | --- | --- |
| 1997-98 | Fr | DNP | - | - | - | - | - | --- | - | - | --- | - | - | --- | - | - | - | - | - | - | - | - | - | - | 0.0 | 0.0 | 0.0 |
| 1998-99 | Fr | C | 9 | 0 | 44 | 10 | 17 | 58.8% | 6 | 8 | 75.0% | 0 | 0 | --- | 3 | 15 | 8 | 7 | 13 | 0 | 5 | 1 | 6 | 26 | 2.9 | 0.3 | 1.7 |
| 1999-00 | So | C | 14 | 0 | 88 | 13 | 19 | 68.4% | 7 | 11 | 63.6% | 0 | 0 | --- | 5 | 13 | 8 | 5 | 20 | 0 | 5 | 1 | 2 | 33 | 2.4 | 0.4 | 0.9 |
| 2000-01 | Jr | C | 28 | 13 | 502 | 56 | 97 | 57.7% | 9 | 19 | 47.4% | 0 | 0 | --- | 17 | 110 | 60 | 50 | 92 | 7 | 21 | 16 | 35 | 121 | 4.3 | 0.6 | 3.9 |
| 2001-02 | | | 21 | 0 | 176 | 17 | 37 | 46.0% | 6 | 13 | 46.2% | 0 | 0 | | 6 | 41 | 15 | 26 | 34 | 0 | 17 | 6 | 5 | 40 | 1.9 | 0.3 | 2.0 |
| Career | | | 72 | 13 | 810 | 96 | 170 | 56.5% | 28 | 51 | 54.9% | 0 | 0 | --- | 31 | 179 | 91 | 88 | 159 | 7 | 48 | 24 | 48 | 220 | 3.1 | 0.4 | 2.5 |
Billy Celuck was a seven foot reserve center for Syracuse basketball for four seasons. He was a skinny player who was unable to develop the strength to go with his size needed to be the starting center. Celuck was a proficient scorer near the basket, but had little range and was not a strong rebounder.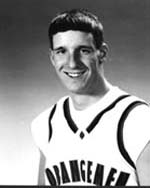 Celuck was the captain of his high school basketball team his junior and senior seasons, and help guide them to the Pennsylvania runner-up in the state championship in 1996.
Celuck would redshirt his first year at Syracuse. As a freshman and sophomore, he saw very little playing time seeing only 132 minutes of action in 23 games. Celuck started his junior season as the starting center for Syracuse. He struggled to stay out of foul trouble in the starting role, and was not able to get a significant number of rebounds despite size. He and freshman Jeremy McNeil were splitting playing time all season long. After thirteen games, Celuck was suspended for three games for academic reasons, and McNeil would assume the starting role, something he would hold on to for the rest of the season.
As a senior Celuck would see even less playing time with the arrival of freshman Craig Forth, who joined McNeil and Celuck at the center position.
© RLYoung 2007