| | |
| --- | --- |
| HS: Brooklyn Boys | Brooklyn, NY |
Season Stats

| Season | Cl | Pos | G | GS | FG | FGA | % | FT | FTA | % | Asst | Reb | Fls | DQ | Pts | PPG | APG | RPG |
| --- | --- | --- | --- | --- | --- | --- | --- | --- | --- | --- | --- | --- | --- | --- | --- | --- | --- | --- |
| 1965-66 | So | F | 28 | 14 | 99 | 214 | 46.3% | 54 | 75 | 72.0% | 70 | 218 | 74 | 4 | 252 | 9.0 | 2.5 | 7.8 |
| 1966-67 | Jr | F | 26 | 26 | 168 | 365 | 46.0% | 88 | 127 | 69.2% | - | 373 | 84 | - | 424 | 16.3 | 0.0 | 14.4 |
| 1967-68 | Sr | F | 25 | 25 | 145 | 329 | 44.1% | 104 | 141 | 73.8% | - | 273 | 81 | - | 394 | 15.8 | 0.0 | 10.9 |
| Career | | | 79 | 65 | 412 | 908 | 45.4% | 246 | 343 | 71.7% | +70 | 864 | 239 | +4 | 1070 | 13.5 | 0.0 | 10.9 |
Vaughn Harper was a phenomenal leaper who loved to grab rebounds, and he did it very proficiently despite standing only 6'4". Harper earned the nickname 'Kangaroo Kid' by the Syracuse fans for his quick leaping ability.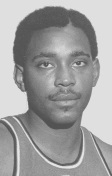 Harper played high school basketball at the legendary Brooklyn Boys High School in Brooklyn (with notable alumni Lenny Wilkins, Vinnie Cohen, Connie Hawkins, and Pearl Washington, to name a few). As a sophomore he was second to Dave Bing in rebounding, despite starting only 14 games. His junior season, Harper had an average of 14.4 rebounds per game, helping the Orangemen to the NIT tournament. And during his senior season, despite the team having several personnel issues, Harper still managed 10.9 rebounds per game. In 1967 in a game against Colgate, Harper pulled down 23 rebounds. Because of his leaping ability, and the lack of height on the team, Harper jumped center for most of his Syracuse career.
Harper could also score, leading the Orangemen in scoring his senior season (scoring 32 versus Niagara University), and averaging 13.5 points per game for his career.
Upon graduation, he was drafted by the Detroit Pistons in the 6th round of the 1968 draft, but failed to make the team.
In 1976, Harper became a Radio DJ for WBLS (107.5 FM) in New York City. Known for mellow voice and soft music selections, Harper's 'Quiet Storm' program became legendary in the New York tri-state area over the next 30 years. Harper was very involved in charity events, and used his celebrity and basketball skills to form the WBLS SureShooters program, a basketball charity event that raised money each year.
Harper passed away in 2016.
©RLYoung 2005, 2006, 2007, 2016