| | |
| --- | --- |
| HS: Sanford School | Hockessin, DE |
Season Stats

| Season | Cl | Pos | G | GS | Min | FG | FGA | % | FT | FTA | % | 3Pt | 3PA | % | Asst | Reb | DReb | OReb | Fls | DQ | TO | ST | BS | Pts | PPG | APG | RPG |
| --- | --- | --- | --- | --- | --- | --- | --- | --- | --- | --- | --- | --- | --- | --- | --- | --- | --- | --- | --- | --- | --- | --- | --- | --- | --- | --- | --- |
| 2011-12 | Fr | G | DNP | - | - | - | - | | - | - | | - | - | | - | - | - | - | - | - | - | - | - | - | 0.0 | 0.0 | 0.0 |
| 2012-13 | Fr | G | 39 | 0 | 436 | 47 | 146 | | 11 | 15 | | 28 | 105 | | 23 | 32 | 24 | 8 | 33 | 0 | 19 | 28 | 3 | 133 | 3.4 | 0.6 | 0.8 |
| 2013-14 | So | G | 34 | 34 | 1093 | 134 | 332 | | 53 | 63 | | 90 | 240 | | 38 | 71 | 55 | 16 | 36 | 0 | 26 | 64 | 3 | 411 | 12.1 | 1.1 | 2.1 |
| 2014-15 | Jr | G | 31 | 31 | 1156 | 135 | 376 | | 73 | 95 | | 71 | 230 | | 68 | 88 | 71 | 17 | 48 | 0 | 46 | 56 | 1 | 414 | 13.4 | 2.2 | 2.8 |
| Career | | | 104 | 65 | 2685 | 316 | 854 | 37.0% | 137 | 173 | 79.2% | 189 | 575 | 32.9% | 129 | 191 | 150 | 41 | 117 | 0 | 91 | 148 | 7 | 958 | 9.2 | 1.2 | 1.8 |
Trevor Cooney is a shooting guard for Syracuse University.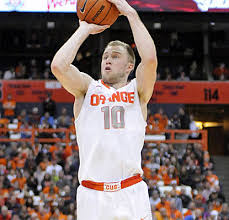 Cooney would redshirt his freshman year. Syracuse had an abundance of guards with senior Scoop Jardine, junior Brandon Triche, sophomore Dion Waiters and freshman Michael Carter-Williams all likely to have significant playing time.
Cooney was poised to be the third guard for Syracuse in his first season. However, he would struggle with his perimeter shooting for almost the entire season, never finding the rhythm he displayed daily in practice. He did play well on defense, and made some note with is hustle on the court, but he often played less than ten minutes in the game. His big moment of the season was in the Big East tournament against Georgetown where he came off the bench to provide some offensive spark hitting 2 of 3 three point shots for a total of 10 points in the overtime win.
Cooney moved into the starting lineup his sophomore year, and had a breakout game in the season opener against Cornell. He would score 28 points while hitting seven of eight three point attempts. Cooney was the lone real perimeter threat on the team, and often the teams offensive success depended on how well he was shooting. He had big games in wins over Villanova and Indiana. His biggest game of the year was against Notre Dame in February. The rest of the Orange team struggled to shoot, while Cooney made 11 out of 15 field goal attempts including 9 out of 12 three point attempts to lead both teams in scoring with 33 points.
Cooney would struggle during Syracuse's rough streak at the end of the season, the lone bright spot being an 18 point effort against Western Michigan in the first round of the NCAA tournament.
© RLYoung 2011, 2013, 2014