| | |
| --- | --- |
| #1 Michael Carter-Williams | |
| | |
| --- | --- |
| HS: St. Andrews School | Barrington, RI |
| HS: Hamilton Wenham | Hamiltion, MA |
| | |
| --- | --- |
| Born: 10/12/1991 | Hamilton, MA |
Season Stats

| Season | Cl | Pos | G | GS | Min | FG | FGA | % | FT | FTA | % | 3Pt | 3PA | % | Asst | Reb | DReb | OReb | Fls | DQ | TO | ST | BS | Pts | PPG | APG | RPG |
| --- | --- | --- | --- | --- | --- | --- | --- | --- | --- | --- | --- | --- | --- | --- | --- | --- | --- | --- | --- | --- | --- | --- | --- | --- | --- | --- | --- |
| 2011-12 | Fr | G | 26 | 0 | 269 | 25 | 58 | | 13 | 23 | | 7 | 18 | | 54 | 38 | 29 | 9 | 25 | 0 | 16 | 20 | 7 | 70 | 2.7 | 2.1 | 1.5 |
| 2012-13 | So | G | 40 | 40 | 1408 | 155 | 394 | | 129 | 186 | | 35 | 120 | | 292 | 195 | 144 | 51 | 92 | 5 | 136 | 111 | 19 | 474 | 11.9 | 7.3 | 4.9 |
| Career | | | 66 | 49 | 1677 | 180 | 452 | 39.8% | 142 | 209 | 67.9% | 42 | 138 | 30.4% | 346 | 233 | 173 | 60 | 117 | 5 | 152 | 131 | 26 | 544 | 8.2 | 5.2 | 3.5 |
Michael Carter-Williams is a guard for Syracuse basketball. He was talk and lanky, with excellent ball handling skills. He was a McDonald's All-American out of high school.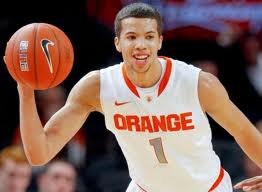 Carter-Williams showed a lot of promise his freshman year, especially with his ball handling, with 54 assists and only 16 turnovers. He was unfortunately a freshman guard sitting behind three talented upper classmen in Scoop Jardine, Brandon Triche and Dion Waiters. It was actually quite a compliment to him that he was getting playing time. He had 8 assists against George Washington early in the season, and a season high 13 points against St. Johns. He did not have too many opportunities in clutch moments, but came up really big with a couple of nice three point shots in a close UConn game. His baskets turned the momentum of the game, and the Orange were off running for the win. He played most of the season, but did not see any playing time in the post season as coach Jim Boeheim favored his experienced players.
Carter-Williams would have a sophomore season full of spectacular plays mixed with inconsistent play. He took over as the point guard of the team and displayed excellent court vision, but often combined that with poor decision making. He was a tremendous defensive asset at the top of the key, using his long reach and height to pick off opposing passes which led to easy fast breaks. He was a strong rebounder for a guard and flirted with a triple double a few times in the season, though never quite getting one.
Carter-Williams had a poor perimeter shot, and often made poor shot selections. Teams learned to back off of him defensively, preventing him from driving to the lane. His low point of the season was the Temple game where he shot 3 of 17 from the floor, along with 7 for 15 from the free throw line. His temple counterpart Khalif Wyatt meanwhile would scored 33 points, including 15 for 15 from the free throw line.
However, in the Arkansas game, Carter-Williams nearly had a triple double with 17 points, 10 rebounds and 9 assists. He had a career high 16 assists against Monmouth, have twelve games with 10+ assists, and would finish the year with the second most assists in a single season, trailing only Sherman Douglas.
Carter-Williams had late game heroics in the Big East tournament, stealing the ball late in the game against Pitt, and then making his free throws down the stretch to seal the win. He was solid in the NCAA tournament with a career high 24 point effort against Indiana, and followed that up with a great balanced effort against Marquette that included 8 rebounds, 6 assists and only one turnover. Carter-Williams would struggle a lot in the Final Four against Michigan, scoring a season low 2 points, along with only 2 assists and 5 turnovers. He would get called for a highly questionable blocking foul with about three minutes left in the game, and with just over two minutes left, he would foul out of the game.
Carter-Williams would announce he was leaving school early to enter the NBA draft in June. He would be drafted in the first round with the 11th overall pick by the Philadelphia 76'ers.
© RLYoung 2011, 2012, 2013