| | |
| --- | --- |
| HS: Fayetteville-Manlius | Manlius, NY |
Season Stats

| Season | Cl | Pos | G | GS | Min | FG | FGA | % | FT | FTA | % | 3Pt | 3PA | % | Asst | Reb | Fls | DQ | TO | ST | BS | Pts | PPG | APG | RPG |
| --- | --- | --- | --- | --- | --- | --- | --- | --- | --- | --- | --- | --- | --- | --- | --- | --- | --- | --- | --- | --- | --- | --- | --- | --- | --- |
| 1986-87 | Fr | G | 13 | 0 | 68 | 12 | 35 | 34.3% | 3 | 3 | 100.0% | 2 | 10 | 20.0% | 5 | 11 | 7 | 0 | 1 | 2 | 0 | 29 | 2.2 | 0.4 | 0.9 |
| 1987-88 | So | G | 35 | 31 | 850 | 109 | 258 | 42.2% | 30 | 38 | 78.9% | 74 | 182 | 40.7% | 69 | 86 | 67 | 1 | 35 | 17 | 2 | 322 | 9.2 | 2.0 | 2.5 |
| 1988-89 | Jr | G | 38 | 38 | 979 | 147 | 299 | 49.2% | 41 | 63 | 65.1% | 83 | 175 | 47.4% | 62 | 87 | 82 | 4 | 52 | 35 | 1 | 418 | 11.0 | 1.6 | 2.3 |
| Career | | | 86 | 69 | 1897 | 268 | 592 | 45.3% | 74 | 104 | 71.2% | 159 | 367 | 43.3% | 136 | 184 | 156 | 5 | 88 | 54 | 3 | 769 | 8.9 | 1.6 | 2.1 |
Matt Roe was a sharp shooting guard for Syracuse. He was a tall guard who was able to take advantage of the fact he was often the considered the fifth option on the court to get off high percentage three point shots, and he was very effective at it.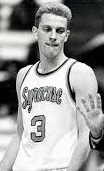 Roe barely played his freshman year. Like many local players who played for Syracuse, Roe would take a lot of abuse from the fans, particularly when compared to his high profile counterparts.
Roe became a starter his sophomore season, and provided the desperately needed three point shooting the team needed now that Greg Monroe had departed. Roe was weak on defense, but his presence on the perimeter helped open the inside game for Derrick Coleman and Rony Seikaly. Against Pittsburgh that year, he had the distinction of making 2 four-point plays in the first half of the game (this occurs when a player is fouled while shooting a three point shot, and still makes the basket and the free throw), on his way to a 25 point game.
He would continue to develop as a shooter, and as a junior made over 47% of his three point shots, and scored double digits. However, Coach Boeheim had taken to rotating Roe with freshman Dave Johnson, who was a much better defensive player, depending on the situation in the game.
Roe surprisingly transferred to the University of Maryland after his junior season. When Roe left Syracuse, he was the school's all time three point shooter (admittedly, the three point shot was introduced his freshman year). He would play for the Terrapins in the 1990-91 season, playing 28 games, scoring 497 points and averaging 17.8 ppg. However, without the benefit of the other star players on the court, his three point shooting percentage dropped significantly, down to 31%.
Roe was drafted in the fourth round of the 1991 CBA draft by Sioux Falls. He would play professional basketball in the CBA and in Europe from 1991 to 1997. From 1998 to 2001 he was an assistant basketball coach at Fairfield University. After his coaching career ended, Roe returned to Syracuse as an insurance representative. Roe was the color commentator on Syracuse basketball radio broadcasts for five seasons from 2008 to 2013, alongside Matt Park.
© RLYoung 2006, 2009, 2013