| | |
| --- | --- |
| HS: Corcoran | Syracuse, NY |
Season Stats

| Season | Cl | Pos | G | GS | Min | FG | FGA | % | FT | FTA | % | 3PG | 3PA | 3P% | Asst | Reb | Fls | DQ | TO | ST | BS | Pts | PPG | APG | RPG |
| --- | --- | --- | --- | --- | --- | --- | --- | --- | --- | --- | --- | --- | --- | --- | --- | --- | --- | --- | --- | --- | --- | --- | --- | --- | --- |
| 1983-84 | Fr | F | 18 | 0 | 109 | 13 | 37 | 35.1% | 13 | 17 | 76.5% | --- | --- | --- | 4 | 25 | 16 | 0 | 9 | 5 | 0 | 39 | 2.2 | 0.2 | 1.4 |
| 1984-85 | So | F | 11 | 1 | 49 | 5 | 14 | 35.7% | 10 | 14 | 71.4% | --- | --- | --- | 5 | 15 | 10 | 0 | 8 | 3 | 0 | 20 | 1.8 | 0.5 | 1.4 |
| 1985-86 | Jr | F | 32 | 32 | 698 | 104 | 196 | 53.1% | 28 | 40 | 70.0% | --- | --- | --- | 41 | 128 | 96 | 6 | 28 | 32 | 4 | 236 | 7.4 | 1.3 | 4.0 |
| 1986-87 | Sr | F | 38 | 38 | 1144 | 185 | 370 | 50.0% | 77 | 107 | 72.0% | 0 | 2 | 0.0% | 89 | 181 | 109 | 1 | 73 | 39 | 6 | 447 | 11.8 | 2.3 | 4.8 |
| Career | | | 99 | 71 | 2000 | 307 | 617 | 49.8% | 128 | 178 | 71.9% | 0 | 2 | 0.0% | 139 | 349 | 231 | 7 | 118 | 79 | 10 | 742 | 7.5 | 1.4 | 3.5 |
Howard Triche played forward at Syracuse for four seasons. He was a short but stocky forward. Triche developed in to a solid all around player, known for his aggressive style and hustling plays. He had a good short range jump shot, and was a decent free throw shooter.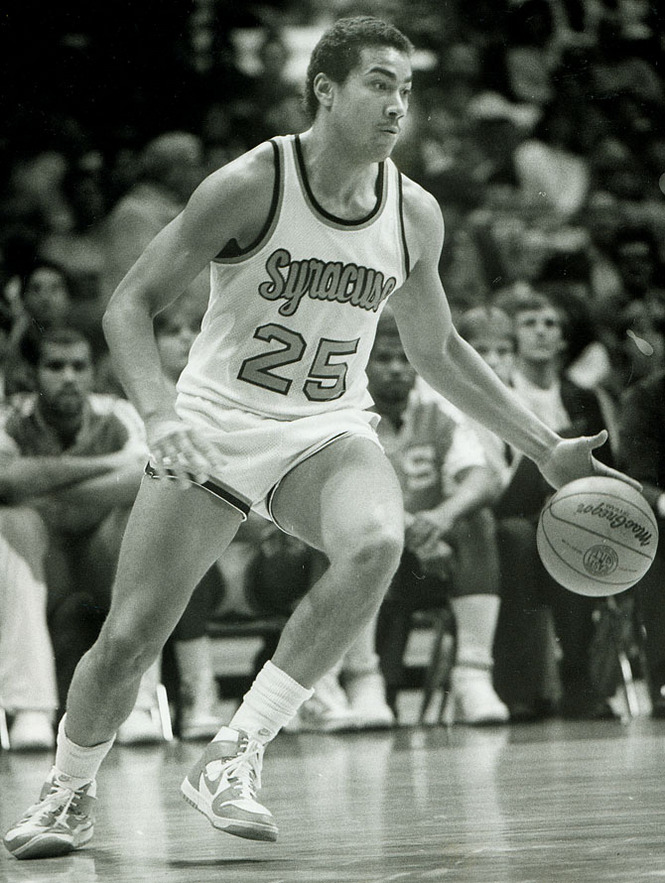 Triche saw little playing time his freshman year, and that dropped significantly his sophomore year as juniors Wendell Alexis and Rafael Addison had more minutes, and the arrival of three talented freshman forwards / centers: Rony Seikaly, Derek Brower and Herman Harried. Triche contemplated transferring, but decided to stay at Syracuse.
That turned out to be a good decision for Triche as he earned the starting forward position his junior season, as Addison switched from forward to guard. He was foul prone that season, and with the talent on the Syracuse bench, Triche found himself sharing a lot of playing time.
Triche had developed into a fine all around player his senior season. Against Northeastern in a December game, he had a career high 31 points. His steady play helped contribute to the Orangemen winning their first fifteen games that season. He would be one of five Orangemen to score in double figures that season.
Unfortunately for Triche, the last play of his college career would be trying to run over and cover Keith Smart as Smart shot the game winning shot in the National Championship game.
Triche would be drafted by the New York Knicks in the 6th round of the 1987 NBA Draft. He would fail to make the team.
Triche was a cousin of future Syracuse point guard Jason Hart and the uncle of Orangemen Brandon Triche.
©RLYoung 2006, 2017