| | | |
| --- | --- | --- |
| 6'9" | 230 lbs | Forward/Center |
| | |
| --- | --- |
| HS: North Babylon | North Babylon, NY |
Season Stats

| Season | Cl | Pos | G | GS | Min | FG | FGA | % | FT | FTA | % | 3Pt | 3PA | % | Asst | Reb | Fls | DQ | TO | ST | BS | Pts | PPG | APG | RPG |
| --- | --- | --- | --- | --- | --- | --- | --- | --- | --- | --- | --- | --- | --- | --- | --- | --- | --- | --- | --- | --- | --- | --- | --- | --- | --- |
| 1984-85 | Fr | F/C | 14 | 0 | 88 | 10 | 16 | 62.5% | 13 | 21 | 61.9% | --- | --- | --- | 0 | 18 | 15 | 0 | 7 | 3 | 3 | 33 | 2.4 | 0.0 | 1.3 |
| 1985-86 | So | F/C | 22 | 0 | 254 | 32 | 69 | 46.9% | 14 | 38 | 36.8% | --- | --- | --- | 6 | 76 | 55 | 4 | 20 | 19 | 8 | 76 | 3.5 | 0.3 | 3.5 |
| 1986-87 | Jr | F/C | 37 | 3 | 370 | 47 | 95 | 49.7% | 20 | 48 | 41.7% | 0 | 0 | --- | 17 | 105 | 71 | 0 | 31 | 18 | 8 | 114 | 3.1 | 0.5 | 2.8 |
| 1987-88 | Sr | F/C | 35 | 0 | 448 | 54 | 122 | 44.3% | 20 | 52 | 38.5% | 3 | 5 | 60.0% | 40 | 96 | 73 | 0 | 28 | 24 | 5 | 131 | 3.7 | 1.1 | 2.7 |
| Career | | | 108 | 3 | 1160 | 143 | 302 | 47.4% | 67 | 159 | 42.1% | 3 | 5 | 60.0% | 63 | 295 | 214 | 4 | 86 | 64 | 24 | 354 | 3.3 | 0.6 | 2.7 |
Derek Brower was a wide bodied big man who developed into a solid reserve player for Syracuse. Brower had limited offensive skills but was able to play solid defense against opposing centers and forwards, and pull down rebounds while providing crucial rest to the starting big men.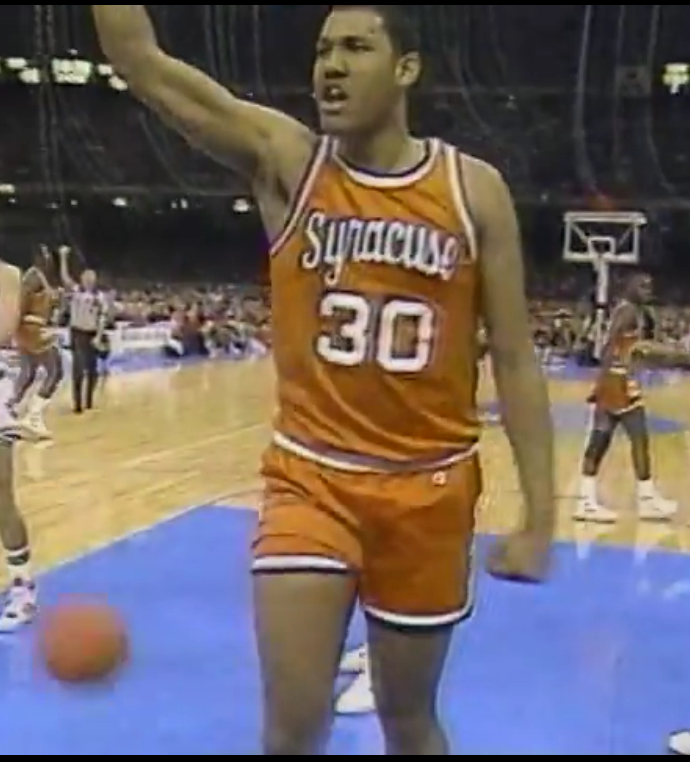 Brower was a very heavy player, who had limited playing time his freshman season. His sophomore year he was a reserve center relieving classmate Rony Seikaly when he was in foul trouble. As a junior Brower had developed into a solid reserve player, and started a few games while Seikaly recovered from an injury.
Brower was perhaps the worst free throw shooter in Syracuse history, occasionally missing the entire basket when he shot. He became a central figure in the NCAA implementing the 'intentional foul' rule for basketball. In the NCAA tournament his junior season, Western Kentucky decided their best chance of overcoming a large Syracuse lead was to deliberately foul Brower before Syracuse would inbound the basketball. This resulted in the comical site of Brower running around the court (without the ball) trying to avoid being intentionally fouled by Western Kentucky players. The strategy was somewhat effective for the Hilltoppers as Brower went 0-6 from the free throw line. The NCAA changed the rules the following summer, giving a team two free throws and possession of the ball if the referee deemed a fouled was intentional.
Brower played solid again his senior season. He had shed some weight in the off season, and was stronger offensively. He had developed some decent ball handling skills (for a big man) and was able to spell Derrick Coleman and Seikaly when they needed a rest.
Brower would be sentenced to 6 months in prison in 1990 for drug trafficking (cocaine) across state lines.
© RLYoung 2006, 2015