| | |
| --- | --- |
| HS: Power Memorial | New York, New York |
| | |
| --- | --- |
| Born: 4/26/1959 | Rosedale, NY |
Season Stats

| Season | Cl | Pos | G | GS | Min | FG | FGA | % | FT | FTA | % | Asst | Reb | Fls | DQ | TO | ST | BS | Pts | PPG | APG | RPG |
| --- | --- | --- | --- | --- | --- | --- | --- | --- | --- | --- | --- | --- | --- | --- | --- | --- | --- | --- | --- | --- | --- | --- |
| 1977-78 | Fr | G | 27 | 0 | - | 38 | 78 | 48.7% | 35 | 51 | 68.6% | 66 | 43 | 44 | 1 | - | 24 | - | 111 | 4.1 | 2.4 | 1.6 |
| 1978-79 | So | G | 26 | 9 | - | 62 | 109 | 56.9% | 47 | 63 | 74.6% | 115 | 63 | 59 | 2 | - | 46 | - | 171 | 6.6 | 4.4 | 2.4 |
| 1979-80 | Jr | G | 30 | 30 | - | 70 | 142 | 49.3% | 43 | 60 | 71.7% | 173 | 85 | 89 | 5 | - | 75 | - | 183 | 6.1 | 5.8 | 2.8 |
| 1980-81 | Sr | G | 34 | 34 | 1116 | 83 | 145 | 57.2% | 50 | 72 | 69.4% | 185 | 78 | 110 | 2 | 110 | 85 | 8 | 216 | 6.4 | 5.4 | 2.3 |
| Career | | | 117 | 73 | - | 253 | 477 | 53.0% | 175 | 246 | 71.1% | 539 | 269 | 302 | 10 | - | 230 | - | 681 | 5.8 | 4.6 | 2.3 |
"Fast Eddie" Moss was a charismatic playmaking point guard, with excellent defensive skills. Moss did not shoot the ball much, but he set up his teammates for easy shots. He had outstanding defensive abilities and used his quickness to harass the opposition's ball handlers, creating crucial steals and turnovers.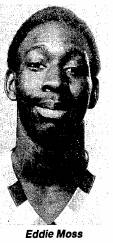 Moss shared his backcourt time with Hal Cohen and Marty Headd. He was the starting point guard his junior and senior seasons, leading SU to a 26-4 record his junior year, and to the NIT finals his senior. Moss was the master of running the fast break, and while he did not score a lot, he took advantage of defensive breakdowns to make the high percentage shot. He earned Big East 3rd Team honors his junior year, despite scoring only 6.1 ppg.
Moss was drafted in the 2nd round by the Dallas Mavericks in the NBA draft. He failed to make the team, and played a few seasons with a couple of Continental Basketball Association teams.
In 1986 Moss earned his law degree from Syracuse. He then went into publishing and editing, starting up four newspapers from scratch, including the Pride of Syracuse newspaper and the Pride of Durham newspaper, both African-American focused publications.
Moss died as a result of cancer at a young age in 2005 at the age of 45.
©RLYoung 2005, 2006, 2017