| | |
| --- | --- |
| #35 Jackson 'Buddy' Boeheim | |
| | |
| --- | --- |
| HS: Brewster Academy | Wolfeboro, NH |
| HS: Jamesville-DeWitt | DeWitt, NY |
| | |
| --- | --- |
| Born: 11/1999 | Syracuse, NY |
Season Stats

| Season | Cl | Pos | G | GS | Min | FG | FGA | % | FT | FTA | % | 3Pt | 3PA | % | Asst | Reb | DReb | OReb | Fls | DQ | TO | ST | BS | Pts | PPG | APG | RPG |
| --- | --- | --- | --- | --- | --- | --- | --- | --- | --- | --- | --- | --- | --- | --- | --- | --- | --- | --- | --- | --- | --- | --- | --- | --- | --- | --- | --- |
| 2018-19 | Fr | G | 32 | 5 | 546 | 72 | 189 | | 26 | 33 | | 47 | 133 | | 33 | 52 | 34 | 18 | 38 | 0 | 25 | 18 | 3 | 217 | 6.8 | 1.0 | 1.6 |
| 2019-20 | Fr | G | 32 | 32 | 1140 | 177 | 434 | | 40 | 56 | | 97 | 262 | | 69 | 61 | 49 | 12 | 54 | 2 | 47 | 35 | 6 | 491 | 15.3 | 1.7 | 1.9 |
| Career | | | 64 | 37 | 1686 | 249 | 623 | 40.0% | 66 | 89 | 74.2% | 144 | 395 | 36.5% | 102 | 113 | 83 | 30 | 92 | 2 | 72 | 53 | 9 | 708 | 11.1 | 1.6 | 1.8 |
Buddy Boeheim is a guard for the Syracuse Orange basketball team.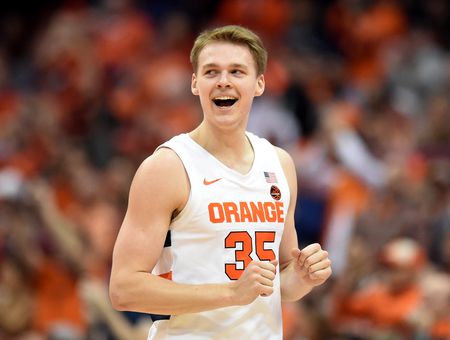 Boeheim would start the first two games of his freshman season due to injuries to senior guard Frank Howard. Boeheim would struggle to shoot in those two games, and would move to a reserve role. He would struggle to shoot early in the season. However, as the year proceeded, his game improved, and he would shoot well in ACC conference play, making 40.7% of his ACC three point attempts. Boeheim became a regular part of the seven man rotation. He would start both ACC tournament games when Tyus Battle hurt his back, and Boeheim would play well. He scored a season high 20 points against Pittsburgh in a win in the first round, and 15 against Duke in a second round loss.
Boeheim improved his shooting range and accuracy for his sophomore season. He was recognized as being one of the top three point shooters in the ACC, and was the second leading scorer on the Orange team. He had a chance of breaking the Syracuse season three point shooting record, but lost the opportunity when the season was cut short due to Covid-19. He would have a season high 26 in a win over Georgia Tech and then later the same amount in two point win over Virginia Tech. Boeheim would lead Syracuse to a 63-55 overtime upset of #18 Virginia; he scored nine of his fourteen points in the overtime period, including a desperation shot as time expired on the shot clock.
Buddy is the son of legendary Syracuse coach Jim Boeheim.
© RLYoung 2018, 2019, 2020