| | |
| --- | --- |
| HS: Paul VI | Suitland, MD |
| HS: Gonzaga | Washington, DC |
Season Stats

| Season | Cl | Pos | G | GS | Min | FG | FGA | % | FT | FTA | % | 3Pt | 3PA | % | Asst | Reb | DReb | OReb | Fls | DQ | TO | ST | BS | Pts | PPG | APG | RPG |
| --- | --- | --- | --- | --- | --- | --- | --- | --- | --- | --- | --- | --- | --- | --- | --- | --- | --- | --- | --- | --- | --- | --- | --- | --- | --- | --- | --- |
| 2015-16 | Fr | G | 32 | 0 | 335 | 18 | 63 | | 14 | 28 | | 2 | 19 | | 56 | 43 | 33 | 10 | 39 | 1 | 28 | 17 | 4 | 52 | 1.6 | 1.8 | 1.3 |
| 2016-17 | So | G | 33 | 14 | 533 | 49 | 139 | 35.3% | 33 | 53 | | 18 | 57 | | 120 | 55 | 37 | 18 | 56 | 0 | 57 | 38 | 5 | 149 | 4.5 | 3.6 | 1.7 |
| 2017-18 | Jr | G | 37 | 37 | 1422 | 187 | 497 | 37.6% | 92 | 128 | 71.9% | 67 | 205 | | 175 | 129 | 110 | 19 | 96 | 2 | 126 | 68 | 10 | 533 | 14.4 | 4.7 | 3.5 |
| Career | | | 102 | 51 | 2290 | 254 | 699 | 36.3% | 139 | 209 | 66.5% | 87 | 281 | 31.0% | 351 | 227 | 180 | 47 | 191 | 3 | 211 | 123 | 19 | 734 | 7.2 | 3.4 | 2.2 |
Frank Howard is a point guard for Syracuse University basketball. Howard was a tall guard with good defensive skills, and a knack for stealing the ball.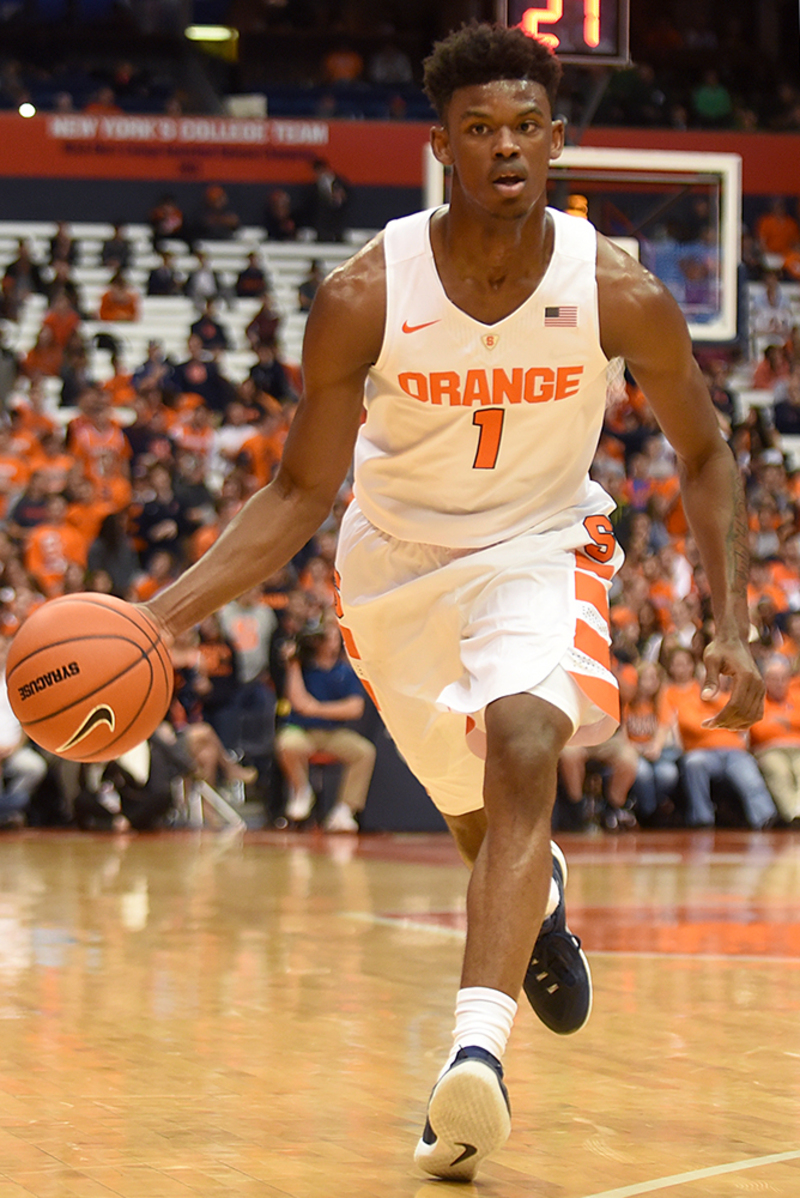 Howard did not get a lot of minutes early in his freshman season, but as the year moved on his game developed and he earned more playing time. He showed he was an outstanding passer with a good ability to drive the lane, and coach Jim Boeheim started using him as a substitute at the point guard position allowing Michael Gbinije the opportunity to spend some time at the small forward position. Howard's defense also improved over the course of the season. He did struggle shooting, particularly from the perimeter, and he was instructed by Boeheim to stop shooting. He had strong games against Wake Forest and Louisville during the ACC season, and played significant time in the NCAA tournament game against Gonzaga, scoring 5 points and 3 assists in seventeen minutes.
Howard was projected to be the starting point guard his sophomore year. Graduate transfer John Gillon joined the team during the summer, and Boeheim chose to have the two split time at the point. Howard started the season strong showing a better shooting touch than he had displayed his freshman year. He would have four games with ten or more assists, including a season high 13 against North Florida. However, as the season progressed Howard's shooting declined and his confidence on the court seemed to lessen. Both Howard and Gillon were struggling, and the team struggled as well. After Syracuse had an embarrassing loss to Boston College, Boeheim decided to stop splitting the point guard time, and gave Gillon the starting point guard position. Howard's playing time would diminish greatly for most of the rest of the season.
After the season ended it was announced that Howard had suffered a lower torso injury early in the ACC season. This hampered his play in the latter half of the season, and required off season surgery [1].
Howard would be the starting point guard his junior season. He was the unquestioned leader of the team, on and off the court. He struggled to have consistency running the point guard position, often mixing games with several great passes mixed in with several poor decisions. His perimeter shooting at the beginning of the year was much improved, though it tapered off as the season progressed. He would leader the ACC conference in steals, and his best game of the season was against Maryland where he had 10 assists, 15 points, 5 rebounds and 7 steals. The Orange had limited depth at guard position, and due to injuries and Geno Thorpe leaving the team, Howard was forced to play most every minute for the balance of the ACC season. As a result, he would be third in the country with minutes played per game.
© RLYoung 2015, 2016, 2017, 2018
[1] Syracuse.com, Mike Waters, June 28, 2017