| | |
| --- | --- |
| 1933-1934 Syracuse Orangemen | |
Coach: Lew Andreas
Coach Lew Andreas had a veteran team returning all five starters from the previous season with his senior backcourt of captain Ronnie Phillips and Elky Maister, and juniors Johnny DeYoung, Skids Sanford, and Lou Alkoff. Charlie Taggart and Don Pickard headed a deep and experienced bench. The Orangemen were starting the season with a 12 game winning streak from the previous year.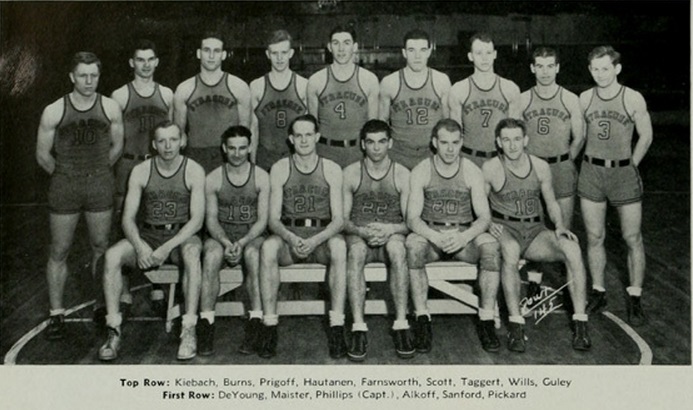 Syracuse won its first seven games of the season. The wins came easy for the veteran squad, though the Orangemen had a tendency to start games slow. Andreas was going deep into his bench.
The first big game of the season came against rival Colgate who was also undefeated and had one of the best squads on the East coast. The game was a physical contest, and Ronnie Phillips fouled out. The Orangemen had difficulty penetrating the Maroons defense, while Colgate starting making their long range shots. Colgate would win the game 21-16, snapping the Orangemen's 19 game winning streak. It had been over a year since Syracuse had lost a basketball game.
Syracuse would go to Philadelphia to play top ranked Penn for their next game, and once again, struggle on offense. The Quakers would win 34-22, dropping the Orangemen to 7-2 on the season.
The games would continue to be physical. Syracuse won easily over Cornell, though the game was filled with several fouls. Pickard starting in place of DeYoung who had injured his leg, and he responded with a team high 16 points. The Fordham game was another physical contests. The Orangemen were losing 22-17 late in the game when Phillips took over sparking the team with his defense, and some needed baskets. The Orange would take the lead late, and win 29-24.
After the Fordham game, the Orangemen started playing aggressive in the first half, and most of the remaining games were highly lopsided scores in favor of Syracuse by half time. The Orangemen would win seven in a row, getting an opportunity to close the season with their rival Colgate. With a healthy DeYoung back in the lineup, the Orangemen had a balanced attack and easily beat the Maroons 43-15.
© RLYoung 2005, 2006, 2007, 2016