| | |
| --- | --- |
| 1915-1916 Syracuse Orangemen | |
Coach: Ed Dollard
Sharp shooting Wilbur Crisp was the team captain. He was joined by a couple of talented forwards with another strong shooter Elmer Keib, and speedy defensive wizard Billy Rafter. Ken Harris, the star of last year's freshman team joined the starting ranks, and sophomore Joe Schwarzer (football star) joined the starting unit at center. The team would start out the season with an impressive one point win over Yale, with Keib leading the way with 12 points.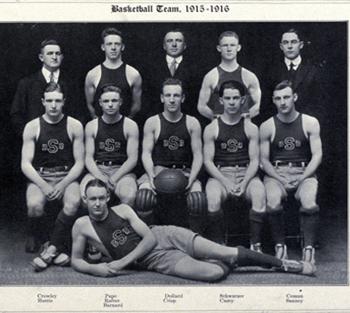 Unfortunately in early January, Keib and four other players (three freshman and a sophomore substitute) played for Kingston in a professional game against Rochester's professional game. Alumnus Arthur Powell saw Keib before the game, and warned him not to play. But Keib did not heed the advice, and as a result, the five players were declared ineligible to play any further basketball for Syracuse University.
Syracuse would lose their next game, ironically, to Powell's University of Rochester team. Jim Casey would move into the starting forward position held by Keib. Syracuse would continue to play strong at home, but struggle on the road. They would finish the season 1-3 on the road, while continue their unbeaten streak at home by going 8-0 including a very impressive win over highly rated Pennsylvania on March 3rd.
Crisp would lead the team in scoring again, and Schwarzer and Harris did not disappoint anyone with their outstanding play.
©RLYoung 2005, 2006, 2008, 2018