| | | |
| --- | --- | --- |
| 5'6" | 140 lbs | Center/Guard |
| | |
| --- | --- |
| HS: Masten Park | Buffalo, NY |
| | |
| --- | --- |
| Born: 5/14/1884 | Toronto, ON |
Season Stats

| Season | Cl | Pos | G | GS | FG | FGA | % | FT | FTA | % | Fls | DQ | Pts | PPG |
| --- | --- | --- | --- | --- | --- | --- | --- | --- | --- | --- | --- | --- | --- | --- |
| 1903-04 | Fr | C | +11 | +10 | +17 | | | +40 | | | | | +74 | 0.0 |
| 1904-05 | So | C | +16 | +12 | | | | | | | | | +118 | 0.0 |
| 1905-06 | Jr | G | +9 | +8 | +28 | | | +1 | | | | | +57 | 0.0 |
| 1906-07 | Sr | G | 7 | 7 | +12 | | | +32 | | | | | +56 | 0.0 |
| Career | | | +43 | +37 | +57 | 0 | 0.0 | +73 | 0 | 0.0 | 0 | 0 | +305 | 0.0 |
Art Powell played four years of varsity basketball for Syracuse. As a sophomore, he was the captain for the 1905 team. In 1907, when George Redlein was ill, Powell was appointed captain again, and was the team's designated free throw shooter that season. He was primarily responsible for assembling the 1904-05 squad, as he recruited three of his Masten High School teammates to play with him at Syracuse (George Redlein,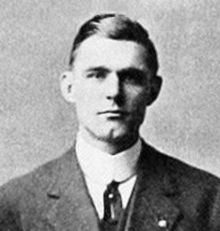 George Kirchgasser, and Max Riehl). They also played as a team for the AAU Buffalo Germans, and won the national AAU championship in 1904.
Powell was a three sport letterman. Besides basketball, he was wingback on the football team for the 1903 and 1904 seasons, and he lettered in baseball in 1905. He was later a referee in the early years of the NFL.
Powell would coach men's basketball 38+ seasons for the University of Rochester, University of Indiana, University of Buffalo and Canisius College. He was the first basketball coach at the University of Buffalo and would coach the team for 28 seasons (1916-1943). He had a 28 game winning streak which included a perfect season in 1930-1931 at 15-0. His overall coaching record at Buffalo was 198-190. His overall coaching record at the four schools was 274-253.
He also coached football at the University of Buffalo for six seasons (1916-1921), going 13-22-4.
Powell died in 1969. He was inducted into the University of Buffalo Athletics Hall of Fame in 1984.
[Note 1903-04 statistics missing scoring from eight games, 1906-07 missing from two games, 1904-05 missing ten games, and 1905-1906 for 6 games, noted by the +]
© RLYoung 2005, 2006, 2009, 2010, 2015, 2016, 2017, 2018, 2019