| | |
| --- | --- |
| HS: North Bloomington | Bloomington, IN |
Season Stats

| Season | Cl | Pos | G | GS | Min | FG | FGA | % | FT | FTA | % | 3Pt | 3PA | % | Asst | Reb | DReb | OReb | Fls | DQ | TO | ST | BS | Pts | PPG | APG | RPG |
| --- | --- | --- | --- | --- | --- | --- | --- | --- | --- | --- | --- | --- | --- | --- | --- | --- | --- | --- | --- | --- | --- | --- | --- | --- | --- | --- | --- |
| 1998-99 | Fr | DNP | - | - | - | - | - | --- | - | - | --- | - | - | --- | - | - | - | - | - | - | - | - | - | - | | | |
| 1999-00 | Fr | F/G | 22 | 0 | 205 | 28 | 67 | 41.8% | 10 | 13 | 76.9% | 4 | 16 | 25.0% | 7 | 42 | 23 | 19 | 22 | 0 | 15 | 7 | 6 | 70 | 3.2 | 0.3 | 1.9 |
| 2000-01 | So | F | 34 | 0 | 624 | 66 | 151 | 43.7% | 48 | 75 | 64.0% | 8 | 29 | 27.6% | 30 | 112 | 65 | 47 | 87 | 1 | 42 | 29 | 13 | 188 | 5.5 | 0.9 | 3.3 |
| 2001-02 | Jr | F/G | 36 | 36 | 1108 | 168 | 370 | 45.4% | 61 | 97 | 62.9% | 43 | 126 | 34.1% | 59 | 191 | 125 | 66 | 90 | 2 | 68 | 54 | 21 | 440 | 12.2 | 1.6 | 5.3 |
| 2002-03 | Sr | G/F | 35 | 35 | 944 | 133 | 303 | 43.9% | 77 | 114 | 67.5% | 43 | 123 | 35.0% | 71 | 128 | 83 | 45 | 75 | 1 | 57 | 36 | 17 | 386 | 11.0 | 2.0 | 3.7 |
| Career | | | 127 | 71 | 2881 | 395 | 891 | 44.3% | 196 | 299 | 65.6% | 98 | 294 | 33.3% | 167 | 473 | 296 | 177 | 274 | 4 | 182 | 126 | 57 | 1084 | 8.5 | 1.3 | 3.7 |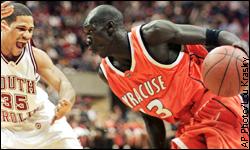 Kueth Duany was a swingman for the Orangemen, who learned most of the nuances of the game while playing at Syracuse.
A tall gifted athlete, Duany came over to the United States from the Sudan when he was a young child with the rest of his family during the Sudanese civil war. He attended high school in Bloomington, Indiana and came to Syracuse as a raw recruit. Duany redshirted his first season due to knee surgery.
Duany was a reserve his first two seasons. He showed flashes of athletic grace and talent, and could make some spectacular plays, and then would have difficulty making some routine plays. However, he continued to develop and by the end of sophomore year he was a valuable reserve.
Duany earned a starting job as small forward his junior season. With is quickness and long arms and legs, he was a natural asset in the 2-3 zone defense. His perimeter shooting began to develop and he became a steady rebounder. Always a hard worker, he continued to grow as a player and was named the captain of the team his senior season.
Duany moved to the shooting guard position to allow for Carmelo Anthony to play the small forward, though Duany would shift between guard and forward depending on the personnel on the court. At 6'6" he was an excellent defender at the top of the key, cutting down all the passing lanes. Duany brought senior leadership to a team dominated by freshmen and sophomores. He was the teams fourth leading scorer, third leading perimeter shooter, and third leading rebounder. Filling the roll well, he was a vital part of the Orangemen's run to the National Championship. He contributed all the missing parts to fill in championship, and would be dearly missed the following season.
Duany was named the Big East's first Sportsman of the Year his senior season.
After college, Duany spent a few seasons with the NBDL, the NBA's developmental league. He also played in Finland for Tampereen Pyrinto.
Duany would enter the world of finance after his playing career was done. In 2011 he became the CEO of Ch'iang Wei Ltd, a brokerage firm in the Sudan [1].
© RLYoung 2005, 2015, 2017
[1] SB Nation, 'Go Back in the Day with Kueth Duany' by James Szuba