| | | |
| --- | --- | --- |
| 6'8" | 225 lbs | Forward/Center |
| | |
| --- | --- |
| HS: Union-Endicott | Endwell, NY |
Season Stats

| Season | Cl | Pos | G | GS | Min | FG | FGA | % | FT | FTA | % | Asst | Reb | Fls | DQ | TO | ST | BS | Pts | PPG | APG | RPG |
| --- | --- | --- | --- | --- | --- | --- | --- | --- | --- | --- | --- | --- | --- | --- | --- | --- | --- | --- | --- | --- | --- | --- |
| 1980-81 | Fr | F/C | 30 | 0 | 362 | 43 | 83 | 51.8% | 22 | 28 | 78.6% | 14 | 70 | 41 | 0 | 20 | 10 | 6 | 108 | 3.6 | 0.5 | 2.3 |
| 1981-82 | So | F/C | 29 | 0 | 617 | 109 | 209 | 52.2% | 41 | 56 | 73.2% | 12 | 119 | 69 | 4 | 34 | 11 | 3 | 259 | 8.9 | 0.4 | 4.1 |
| 1982-83 | Jr | F/C | 30 | 1 | 366 | 54 | 117 | 46.2% | 20 | 29 | 69.0% | 11 | 65 | 56 | 1 | 14 | 8 | 6 | 128 | 4.3 | 0.4 | 2.2 |
| 1983-84 | Sr | F | 32 | 32 | 905 | 159 | 304 | 52.3% | 38 | 48 | 79.2% | 31 | 179 | 67 | 4 | 37 | 23 | 18 | 356 | 11.1 | 1.0 | 5.6 |
| Career | | | 121 | 33 | 2250 | 365 | 713 | 51.2% | 121 | 161 | 75.2% | 68 | 433 | 233 | 9 | 105 | 52 | 33 | 851 | 7.0 | 0.6 | 3.6 |
Sean Kerins played forward and center at Syracuse for four seasons. He was a quick and lean forward with a nice shooting touch from the perimeter. He was able to run the court well and help the Orangemen with their fast break offense, and was a solid free throw shooter.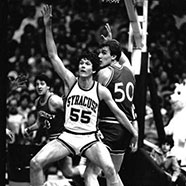 Kerins had played high school basketball with Orangemen teammate Sonny Spera at Union-Endicott. As a freshman at Syracuse, Kerins was the primary backup for senior center Danny Schayes, which gave Kerins little playing time.
As a sophomore, Kerins' playing time increased significantly as he was a back up to foul prone freshman center Andre Hawkins. Kerins would average nearly nine points a game as a reserve that season. His playing time as a junior decreased as Hawkins matured, and two talented freshman forwards Rafael Addison and Wendell Alexis joined the team
As a senior Kerins would earn a starting role on the team, starting every game. He and classmate Gene Waldron would provide the steady senior leadership necessary on a team with several young stars. The Orangemen would have a solid season in the Big East going 12-4, and Kerins would average over eleven points a game.
Kerins would graduate from Syracuse with a degree in engineering. He would be drafted in the seventh round of the 1984 NBA draft with the 155th pick by the New Jersey Nets. However, he would not make the team, nor play in the NBA.
Kerins was hired as an Associate Athletics Director for Development for Syracuse University in 2006, after spending twenty years in the corporate business world. In 2007 he would move on to be the general manager of Arrow Electronics Storage Group. He was honored as a Syracuse Letterwinner of Distinction in 2010, and the Vic Hanson Medal of Honor recipient in 2012.
© RLYoung 2006, 2010, 2014, 2017