| | | |
| --- | --- | --- |
| 6'9" | 235 lbs | Forward/Center |
| | |
| --- | --- |
| HS: Neumann-Goretti | Philadelphia, PA |
| | |
| --- | --- |
| Born: 5/26/1989 | Philadelphia, PA |
Season Stats

| Season | Cl | Pos | G | GS | Min | FG | FGA | % | FT | FTA | % | 3Pt | 3PA | % | Asst | Reb | DReb | OReb | Fls | DQ | TO | ST | BS | Pts | PPG | APG | RPG |
| --- | --- | --- | --- | --- | --- | --- | --- | --- | --- | --- | --- | --- | --- | --- | --- | --- | --- | --- | --- | --- | --- | --- | --- | --- | --- | --- | --- |
| 2007-08 | Fr | F/C | 35 | 0 | 452 | 51 | 97 | 52.6% | 29 | 53 | 52.8% | 0 | 0 | --- | 19 | 105 | 63 | 42 | 44 | 0 | 32 | 15 | 44 | 130 | 3.7 | 0.5 | 3.0 |
| 2008-09 | So | F | 38 | 27 | 839 | 139 | 223 | 62.3% | 37 | 77 | 48.1% | 0 | 1 | 0.0% | 36 | 219 | 141 | 78 | 76 | 2 | 60 | 34 | 60 | 315 | 8.3 | 0.9 | 5.8 |
| 2009-10 | Jr | F | 35 | 35 | 920 | 149 | 252 | | 43 | 86 | | 0 | 0 | | 60 | 246 | 152 | 94 | 69 | 3 | 68 | 36 | 69 | 341 | 9.7 | 1.7 | 7.0 |
| 2010-11 | Sr | F/C | 35 | 35 | 1245 | 193 | 328 | | 73 | 137 | | 0 | 0 | | 77 | 360 | 240 | 120 | 71 | 0 | 72 | 47 | 86 | 459 | 13.1 | 2.2 | 10.3 |
| Career | | | 141 | 97 | 3456 | 532 | 909 | 58.5% | 182 | 353 | 51.6% | 0 | 1 | 0.0% | 192 | 930 | 596 | 334 | 240 | 5 | 232 | 132 | 259 | 1245 | 8.8 | 1.4 | 6.6 |
Rick Jackson was a wide bodied forward and center for Syracuse basketball. Jackson was a solid rebounder with a nice shooting touch near the basket.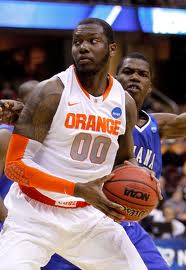 Jackson was a high school classmate and teammate of Scoop Jardine, and the two came to Syracuse at the same time. Jackson was a valuable reserve on the team his freshman season, playing in every game and providing backup to Arinze Onuaku at center, and Kris Ongenaet at forward.
Jackson would begin his sophomore season as one of the top reserves on the team. He would become the starter against Memphis when Onganaet was benched due to his court struggles, and Jackson showed he earned to be in the starting rotation. He was a solid rebounder, and very good at making the high percentage shot near the hoop, making 62% of his shots, one of the best percentages in school history. Jackson was not nearly as gifted at the free throw line as he struggled to get to 48%.
Jackson was entrenched as a starter his junior season. His play was still inconsistent, but he was a solid presence inside, scoring on 59% of his shots. Defensively he helped shut down his corner of zone.
Jackson entered his senior year with a new commitment to basketball. He had worked out all summer losing 20 lbs, and starting the year in great shape. The difference is his mobility and energy was readily apparent. In the third game of the year he pulled down a career high 22 rebounds against Detroit. He would have 19 games with 10 or more rebounds that season.
Jackson became far more consistent with his game. He played more minutes than any other Syracuse player, despite being a big man. He started every game at forward, but spent half of each game playing center due to the inexperience and inconsistency of Syracuse's freshman centers, Fab Melo and Baye Keita. Jackson would have a career high 23 points in a win over Indiana State in the first round of the NCAA tournament. Unfortunately, he struggled to get free against double coverage from Marquette in the second round, and he would finish his career with seven points on six shots in the loss.
Jackson would be recognized as the Big East Defensive Player of the Year, and was named to the All Big East Second Team. He would earn AP Honorable Mention status.
Jackson would not be drafted in the NBA draft, and with the pending NBA player lockout, he decided to play in France.
© RLYoung 2008-2011