| | | |
| --- | --- | --- |
| 6'6" | 198 lbs | Forward/Guard |
| | |
| --- | --- |
| HS: Fort Walton Beach | Fort Walton Beach, FL |
| | |
| --- | --- |
| Born: 8/20/1979 | Muncie, IN |
Season Stats

| Season | Cl | Pos | G | GS | Min | FG | FGA | % | FT | FTA | % | 3Pt | 3PA | % | Asst | Reb | DReb | OReb | Fls | DQ | TO | ST | BS | Pts | PPG | APG | RPG |
| --- | --- | --- | --- | --- | --- | --- | --- | --- | --- | --- | --- | --- | --- | --- | --- | --- | --- | --- | --- | --- | --- | --- | --- | --- | --- | --- | --- |
| 1998-99 | Fr | G | 32 | 0 | 456 | 59 | 148 | 39.9% | 27 | 37 | 73.0% | 27 | 93 | 29.0% | 18 | 76 | 37 | 39 | 25 | 0 | 29 | 15 | 6 | 172 | 5.4 | 0.6 | 2.4 |
| 1999-00 | So | G | 32 | 4 | 668 | 110 | 233 | 47.2% | 55 | 66 | 83.3% | 54 | 126 | 42.9% | 26 | 95 | 63 | 32 | 25 | 0 | 27 | 38 | 4 | 329 | 10.3 | 0.8 | 3.0 |
| 2000-01 | Jr | F | 34 | 34 | 1240 | 225 | 515 | 43.7% | 132 | 173 | 76.3% | 80 | 207 | 38.7% | 56 | 200 | 130 | 70 | 71 | 1 | 59 | 65 | 20 | 662 | 19.5 | 1.7 | 5.9 |
| 2001-02 | Sr | G/F | 36 | 36 | 1328 | 256 | 591 | 43.3% | 144 | 176 | 81.8% | 88 | 233 | 37.8% | 83 | 218 | 149 | 69 | 60 | 0 | 92 | 68 | 16 | 744 | 20.7 | 2.3 | 6.1 |
| Career | | | 134 | 74 | 3692 | 650 | 1,487 | 43.7% | 358 | 452 | 79.2% | 249 | 659 | 37.8% | 183 | 589 | 379 | 210 | 181 | 1 | 207 | 186 | 46 | 1,907 | 14.2 | 1.4 | 4.4 |
Preston Shumpert started his career as a valuable sixth man, and finished his career as one of the most prolific scorers in Syracuse history. A tall lanky player, Shumpert was a pure shooter with tremendous shooting range, but also a tempermental individual which would impact his play.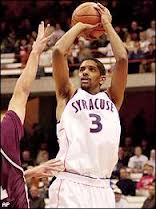 As a sophomore he led the team in three point field goals made, and hit at a 42.9% clip, despite only starting four games, and averaging 20 minutes a game. His junior year he switched from guard to forward, and became a full time starter. His offensive production exploded as he led the team in scoring, and earned recognition as the Big East's Most Improved Player. He was also named to the Big East's All Conference First Team, an honor he would earn again his senior season.
Like many pure shooters, Shumpert was not a good passer, and was a weak defender his first two seasons (resulting in the low playing time). He did learn to play the passing lanes in the zone, and was effective at generating steals. As a junior and senior, he became a steady rebounder.
Shumpert's senior season saw him break the SU single season three point record, and the career three point record. He became an extremely prolific scorer, seven times scoring 30+ points, including a career high of 37 versus Albany. Against UConn he shot 8 of 11 from three point range, on his way to a 34 point night, and against Butler in the NIT, he scored 36 points on the way to victory.
Unfortunately his senior year was not all glory. The team started out a blistering 14-2 before infighting on the team led to a disastrous 4-9 streak. Shumpert and junior DeShaun Williams had off court disputes which carried onto the court, and the team suffered. Though Shumpert scored 31 points in the Big East Tournament, the Orange lost to UConn in the first round, sending the team to the NIT.
Despite all his talent, concerns about his defensive abilities and temperment left him undrafted in the 2002 draft. Shumpert went over to France to play basketball for one year, and then to Italy to play from 2003 to 2007. From 2007 to 2012 he played in the Turkey Basketball League, where he was known as Mert Shumpert.
© RLYoung 2005, 2007, 2013