| | |
| --- | --- |
| HS: Bishop Ludden | Syracuse, NY |
Season Stats

| Season | Cl | Pos | G | GS | FG | FGA | % | FT | FTA | % | Asst | Reb | Fls | DQ | Pts | PPG | APG | RPG |
| --- | --- | --- | --- | --- | --- | --- | --- | --- | --- | --- | --- | --- | --- | --- | --- | --- | --- | --- |
| 1970-71 | So | F | 26 | 18 | 74 | 201 | 36.8% | 38 | 58 | 65.5% | 55 | 196 | 52 | 1 | 185 | 7.1 | 2.1 | 7.5 |
| 1971-72 | Jr | F | 28 | 28 | 101 | 233 | 43.4% | 50 | 72 | 69.4% | 99 | 220 | 74 | 2 | 252 | 9.0 | 3.5 | 7.8 |
| 1972-73 | Sr | G/F | | | | | 42.6% | | | | | | | | | 7.7 | 3.3 | 4.0 |
| Career | | | 83 | 75 | 276 | 671 | 41.1% | 109 | 167 | 65.4% | 250 | 533 | 193 | 5 | 660 | 8.0 | 3.0 | 6.4 |
Mark Wadach was a extremely strong player, who personified Syracuse's "Roy's Runts". Despite being only 6'1", Wadach was an excellent rebounder. He had great anticipation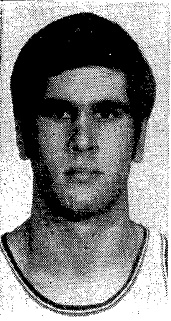 and positioning on the court, and hustled to the loose balls.
Wadach was a solid all around athlete at Syracuse's Bishop Ludden High School, participating in football, basketball and track. He was part of the Syracuse freshman basketball team that went 16-2.
Wadach was known as a player who looked to rebound first, and shoot later. Despite that, he managed to scored 8 points per game for his career. His senior season, he moved from forward to guard to accommodate the arrival of Rudy Hackett.
After graduation he became an assistant basketball, football, and golf coach at Bishop Ludden. He would hold those positions from 1973 to 1985.
Wadach was inducted into the Syracuse Hall of Fame in 2000.
©RLYoung 2006, 2007