| | |
| --- | --- |
| HS: St. Raymond | Bronx, NY |
Season Stats

| Season | Cl | Pos | G | GS | Min | FG | FGA | % | FT | FTA | % | 3Pt | 3PA | % | Asst | Reb | DReb | OReb | Fls | DQ | TO | ST | BS | Pts | PPG | APG | RPG |
| --- | --- | --- | --- | --- | --- | --- | --- | --- | --- | --- | --- | --- | --- | --- | --- | --- | --- | --- | --- | --- | --- | --- | --- | --- | --- | --- | --- |
| 2003-04 | Fr | G | 28 | 0 | 394 | 44 | 124 | 35.5% | 9 | 20 | 45.0% | 13 | 57 | 22.8% | 27 | 61 | 39 | 22 | 39 | 2 | 28 | 21 | 4 | 110 | 3.9 | 1.0 | 2.2 |
| 2004-05 | So | G | 34 | 16 | 675 | 75 | 192 | 39.1% | 20 | 40 | 50.0% | 19 | 65 | 29.2% | 41 | 99 | 62 | 37 | 46 | 1 | 40 | 28 | 1 | 189 | 5.6 | 1.2 | 2.9 |
| 2005-06 | Jr | G | 34 | 5 | 476 | 51 | 124 | 41.1% | 22 | 48 | 45.8% | 4 | 19 | 21.1% | 44 | 113 | 68 | 45 | 55 | 3 | 49 | 26 | 2 | 128 | 3.8 | 1.3 | 3.3 |
| Career | | | 96 | 21 | 1545 | 170 | 440 | 38.6% | 51 | 108 | 47.2% | 36 | 141 | 25.5% | 112 | 273 | 164 | 109 | 140 | 6 | 117 | 75 | 7 | 427 | 4.4 | 1.1 | 2.8 |
Louie McCroskey was a solid defensive swingman for Syracuse, who often played recklessly on offensive, but strong on defense. He lettered for three seasons for the Orangemen.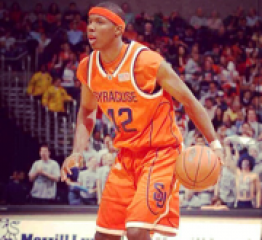 McCroskey had the size and build of a typical Jim Boeheim swingman. He was aggressive to the hoop, and a strong rebounder for a guard. His sophomore season, his defensive prowess earned him a starting job when classmate Demetris Nichols struggled offensively. His junior season, McCroskey was named the starter to begin the season. However, he was often too aggressive driving to the hoop drawing the offensive charge, and was prone to unforced turnovers. His shooting never improved from his freshman year, and his free throw shooting was horrendous. With more talented shooters on a team struggling to find offense, McCroskey lost his starting position to Eric Devendorf. McCroskey's value as a defensive player continued to earn him playing time off the bench.
In February of his junior season, McCroskey was in a much publicized shouting match with coach Boeheim. Rumors were that he was kicked off the team or had quit, but those turned out to be false, as he returned to the team and played down the stretch. However, following his junior year, he transferred to Marist College. McCroskey would play 15 games for Marist in the 2007-08 season, before breaking his foot on January 17th, and missing the remainder of the season. He was the Red Foxes' leading scorer at the time with 186 points, 84 rebounds and 20 assists. He would average 12.4 points per game that season.
Marist College Statistics

| Season | Cl | Pos | G | GS | Min | FG | FGA | % | FT | FTA | % | 3Pt | 3PA | % | Asst | Reb | DReb | OReb | Fls | DQ | TO | ST | BS | Pts | PPG | APG | RPG |
| --- | --- | --- | --- | --- | --- | --- | --- | --- | --- | --- | --- | --- | --- | --- | --- | --- | --- | --- | --- | --- | --- | --- | --- | --- | --- | --- | --- |
| 2007-08 | Sr | G | 19 | 18 | 479 | 88 | 196 | 44.9% | 28 | 47 | 59.6% | 25 | 61 | 41.0% | 23 | 99 | 61 | 38 | 46 | 0 | 41 | 13 | 5 | 229 | 12.1 | 1.2 | 5.2 |
| Career | | | 19 | 18 | 479 | 88 | 196 | 44.9% | 28 | 47 | 59.6% | 25 | 61 | 41.0% | 23 | 99 | 61 | 38 | 46 | 0 | 41 | 13 | 5 | 229 | 12.1 | 1.2 | 5.2 |
© RLYoung 2006, 2008, 2009