| | |
| --- | --- |
| HS: DeMatha Catholic | Hyattsville, MD |
| | |
| --- | --- |
| Born: 3/12/1994 | Portland, OR |
Season Stats

| Season | Cl | Pos | G | GS | Min | FG | FGA | % | FT | FTA | % | 3Pt | 3PA | % | Asst | Reb | DReb | OReb | Fls | DQ | TO | ST | BS | Pts | PPG | APG | RPG |
| --- | --- | --- | --- | --- | --- | --- | --- | --- | --- | --- | --- | --- | --- | --- | --- | --- | --- | --- | --- | --- | --- | --- | --- | --- | --- | --- | --- |
| 2012-13 | Fr | F | 40 | 9 | 572 | 54 | 117 | | 41 | 73 | | 6 | 15 | | 18 | 118 | 72 | 46 | 54 | 1 | 26 | 17 | 17 | 155 | 3.9 | 0.5 | 3.0 |
| 2013-14 | So | F | 32 | 20 | 1005 | 133 | 268 | | 120 | 178 | | 0 | 5 | | 44 | 217 | 139 | 78 | 75 | 3 | 37 | 26 | 18 | 386 | 12.1 | 1.4 | 6.8 |
| Career | | | 72 | 29 | 1577 | 187 | 385 | 48.6% | 161 | 251 | 64.1% | 6 | 20 | 30.0% | 62 | 335 | 211 | 124 | 129 | 4 | 63 | 43 | 55 | 541 | 7.5 | 0.9 | 4.7 |
Jerami Grant was a forward at Syracuse University. He was an outstanding athlete with very quick jumping skills and a large wingspan. Grant was a terrific rebounder but had limiting shooting range.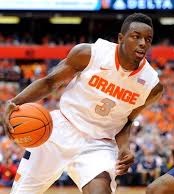 Grant was a key reserve his freshman season, providing a high level of energy every time he entered the game. He would start nine games when James Southerland was suspended and Dajuan Coleman was hurt. Grant displayed a lot of athleticism, and a nice shooting touch, but struggled with his defensive assignments. The defensive liability would cost him playing time later in the year. Grant's best game was against Notre Dame, where he played against his older brother Jerian Grant. Jerami would score 14 points in that game, playing all 40 minutes, and shooting six of eight from the floor.
Grant would be suspended for the first game of his sophomore season for playing in an unsanctioned recreation league game the preceding summer. He would begin the season as a reserve, as coach Jim Boeheim preferred to bring him into the game as a change of pace. However, twelve games into the season that changed when DaJuan Coleman's season ended due to injury, and Grant was put into the starting role.
Grant flourished in the back of Syracuse's zone, and was the team's best rebounder, seven times having double digit rebound totals. He would injure his back in late December, and that would hamper his playing ability on occasions for the remainder on the season, forcing him to miss the first Boston College game, and parts of other games of the season. He never quite developed a shooting touch, and while prolific and drawing fouls and getting to the basket, he was not a good free throw shooter. However, he defended the back of the zone very well.
Grant was an honorable mention selection on the All-ACC Team. Syracuse fans were looking forward to seeing how Grant developed for his junior season when he announced he was leaving school early for the NBA draft. He was drafted in the 2nd round of the 2014 NBA draft with the 39th pick by the Philadelphia 76ers.
Grant is the son of former NBA player Harvey Grant, and the nephew of NBA player Horace Grant.
© RLYoung 2012-2014