| | |
| --- | --- |
| HS: Booker T. Washington | Tulsa, OK |
Season Stats

| Season | Cl | Pos | G | GS | Min | FG | FGA | % | FT | FTA | % | 3Pt | 3PA | % | Asst | Reb | DReb | OReb | Fls | DQ | TO | ST | BS | Pts | PPG | APG | RPG |
| --- | --- | --- | --- | --- | --- | --- | --- | --- | --- | --- | --- | --- | --- | --- | --- | --- | --- | --- | --- | --- | --- | --- | --- | --- | --- | --- | --- |
| 2000-01 | Fr | F | 9 | 0 | 27 | 1 | 6 | 16.7% | 0 | 0 | 0.0% | 0 | 1 | 0.0% | 3 | 3 | 1 | 2 | 5 | 0 | 1 | 0 | 0 | 2 | 0.2 | 0.3 | 0.3 |
| 2001-02 | | | 0 | 0 | 0 | 0 | 0 | 0.0% | 0 | 0 | 0.0% | 0 | 0 | 0.0% | 0 | 0 | 0 | 0 | 0 | 0 | 0 | 0 | 0 | 0 | | | |
| Career | | | 9 | 0 | 27 | 1 | 6 | 16.7% | 0 | 0 | 0.0% | 0 | 1 | 0.0% | 3 | 3 | 1 | 2 | 5 | 0 | 1 | 0 | 0 | 2 | 0.2 | 0.3 | 0.3 |
Greg Davis was a reserve forward for Syracuse for one season. He was a poor shooter, both from the floor and the free throw line (37% and 52%, respectively, for his collegiate career) .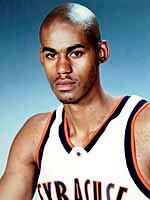 Davis came to Syracuse from Tulsa, Oklahoma. As a high school junior, he led his team to the Oklahoma Class 5-A state championship. As a freshman at Syracuse, Davis saw limited playing time with Damone Brown, Preston Shumpert and Kueth Duany ahead of him. He decided to redshirt his sophomore season.
Unhappy with his playing time, Davis transferred from Syracuse after his sophomore season to North Carolina A&T. He would have to sit out a season, and then as a junior became a starter on the Aggies early in his junior season (2003-04). He would start 21 of 28 games his junior year, averaging 2.9 points per game. He would lose his starting position his senior season, averaging only 1.8 points per game. Davis would total 132 points in his two years at A&T, and 134 points in his collegiate career.
North Carolina A&T Statistics

| Season | Cl | Pos | G | GS | Min | FG | FGA | % | FT | FTA | % | 3Pt | 3PA | % | Asst | Reb | DReb | OReb | Fls | DQ | TO | ST | BS | Pts | PPG | APG | RPG |
| --- | --- | --- | --- | --- | --- | --- | --- | --- | --- | --- | --- | --- | --- | --- | --- | --- | --- | --- | --- | --- | --- | --- | --- | --- | --- | --- | --- |
| 2003-04 | Jr | C | 28 | 21 | 528 | 35 | 86 | 40.7% | 9 | 20 | 45.0% | 2 | 10 | 20.0% | 10 | 73 | 45 | 28 | 54 | 1 | 33 | 7 | 28 | 81 | 2.9 | 0.4 | 2.6 |
| 2004-05 | Sr | C | 29 | 1 | 375 | 17 | 52 | 32.7% | 16 | 28 | 57.1% | 1 | 7 | 14.3% | 19 | 64 | 42 | 22 | 50 | 0 | 44 | 4 | 19 | 51 | 1.8 | 1.2 | 0.7 |
| Career | | | 57 | 22 | 903 | 52 | 138 | 37.7% | 25 | 48 | 52.1% | 3 | 17 | 17.6% | 29 | 137 | 87 | 50 | 104 | 1 | 77 | 11 | 47 | 132 | 2.3 | 0.5 | 2.4 |
© RLYoung 2006, 2009