| | |
| --- | --- |
| HS: Sycamore | Sycamore, IL |
| | |
| --- | --- |
| Born: 9/29/1976 | Sarajevo, Bosnia |
Season Stats

| Season | Cl | Pos | G | GS | Min | FG | FGA | % | FT | FTA | % | 3Pt | 3PA | % | Asst | Reb | DReb | OReb | Fls | DQ | TO | ST | BS | Pts | PPG | APG | RPG |
| --- | --- | --- | --- | --- | --- | --- | --- | --- | --- | --- | --- | --- | --- | --- | --- | --- | --- | --- | --- | --- | --- | --- | --- | --- | --- | --- | --- |
| 1995-96 | Fr | C/F | 16 | 0 | 90 | 20 | 46 | 43.5% | 3 | 6 | 50.0% | 0 | 3 | 0.0% | 3 | 32 | 16 | 16 | 12 | 0 | 11 | 1 | 5 | 43 | 2.7 | 0.2 | 2.0 |
| 1996-97 | So | C | 30 | 6 | 493 | 44 | 101 | 43.6% | 8 | 13 | 61.5% | 14 | 40 | 35.0% | 37 | 144 | 87 | 57 | 65 | 0 | 35 | 23 | 38 | 110 | 3.7 | 1.2 | 4.8 |
| 1997-98 | Jr | C | 34 | 0 | 411 | 41 | 125 | 32.8% | 4 | 9 | 44.4% | 13 | 58 | 22.4% | 41 | 84 | 49 | 35 | 46 | 2 | 35 | 22 | 18 | 81 | 2.4 | 1.2 | 2.5 |
| 1998-99 | Sr | C/F | 33 | 0 | 452 | 37 | 117 | 31.6% | 9 | 17 | 52.9% | 10 | 52 | 19.2% | 59 | 101 | 62 | 39 | 57 | 0 | 45 | 24 | 22 | 93 | 2.8 | 1.8 | 3.1 |
| Career | | | 113 | 6 | 1446 | 142 | 389 | 36.5% | 24 | 45 | 53.3% | 37 | 153 | 24.2% | 140 | 361 | 214 | 147 | 180 | 2 | 126 | 70 | 83 | 327 | 2.9 | 1.2 | 3.2 |
Elvir Ovcina was a soft shooting reserve center for four seasons at Syracuse. He style was typical of many European basketball players of his day: a finesse player, with decent perimeter shooting and strong passing skills, and a tendency not to get too physical.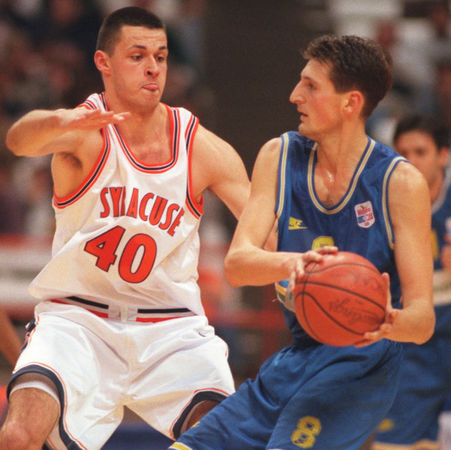 Ovcina was born in Bosnia. He was part of the Bosnian Junior National Team when he was sixteen years old. One night, after a game, he and seventeen teammates fled from Bosnia, into Turkey, and eventually made it to the United States. He lived with a sponsor family in Sycamore, Illinois, and though he spoke no English, he enrolled in high school and starting playing basketball. He caught the eye of Syracuse coach Bernie Fine, and chose to come to Syracuse.
Ovcina had a nice assortment of shots he would use, including taking the three point shot and utilizing a hook shot. The arrival and development of Etan Thomas during Ovcina's sophomore year, would keep Ovcina a reserve throughout his career. However, he was often the first reserve off the bench, providing a nice change up to the powerful inside game of Thomas.
Ovcina's best season was his sophomore campaign, where he split time with Thomas on the court. Ovcina shot an impressive 35% from three point range, and averaged almost five rebounds a game that season. For a brief point during his sophomore season, he left the team due to homesickness.
He played on the Bosnia & Herzegovina National team in the 1997, 1999, 2001, and 2003 European Championship series. He played in a few seasons in the German league and again the Ukrainian league. From 2006 to current, he played in the Belgian league for the Oostende. He helped lead the team to the league championship in both of his first two seasons.
© RLYoung 2006, 2007