| | |
| --- | --- |
| HS: Binghamton Central | Binghamton, NY |
Season Stats

| Season | Cl | Pos | G | GS | FG | FGA | % | FT | FTA | % | Fls | DQ | Pts | PPG |
| --- | --- | --- | --- | --- | --- | --- | --- | --- | --- | --- | --- | --- | --- | --- |
| 1948-49 | So | C | 8 | 0 | 3 | 5 | 60.0% | 0 | 1 | 0.0% | 3 | 0 | 6 | 0.8 |
| 1949-50 | Jr | C | 25 | 2 | 42 | 91 | 46.2% | 12 | 22 | 54.5% | 34 | - | 96 | 3.8 |
| 1950-51 | Sr | F | 26 | 2 | 51 | - | --- | 19 | 29 | 65.6% | 60 | - | 121 | 4.7 |
| Career | | | 59 | 4 | 96 | +96 | 0.0 | 31 | 52 | 59.6% | 97 | 0 | 223 | 3.8 |
Chuck Steveskey was a reserve on the Syracuse basketball team for three seasons.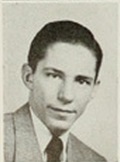 Steveskey did not play much his sophomore season. However, he was a regular part of the rotation his junior and senior year, backing up the center and forward positions. He would lead the team in scoring in wins over Queens University and John Carroll University early in his senior season.
Steveskey would server in the Air Force following graduation from Syracuse. He would play basketball for the Sampson Air Force team in the 1953-1954 season. Steveskey would return to Syracuse and earn his Masters degree in 1957.
Steveskey would coach high school basketball at Notre Dame High School of Utica until 1964. He would coach basketball at Auburn Community College and serve as the Athletic Director for over 20 years.
He passed away in 2013.
©RLYoung 2015, 2017, 2018
[Note: Sometimes his name was spelled Chuck Stevesky]