| | |
| --- | --- |
| HS: Oak Hill Academy | Mouth of Wilson, VA |
| HS: DeMatha | Baltimore, MD |
| | |
| --- | --- |
| Born: 4/17/1983 | Silver Spring, MD |
Season Stats

| Season | Cl | Pos | G | GS | Min | FG | FGA | % | FT | FTA | % | 3Pt | 3PA | % | Asst | Reb | DReb | OReb | Fls | DQ | TO | ST | BS | Pts | PPG | APG | RPG |
| --- | --- | --- | --- | --- | --- | --- | --- | --- | --- | --- | --- | --- | --- | --- | --- | --- | --- | --- | --- | --- | --- | --- | --- | --- | --- | --- | --- |
| 2002-03 | Fr | G | 23 | 0 | 533 | 80 | 146 | 54.8% | 48 | 71 | 67.6% | 0 | 2 | 0.0% | 58 | 78 | 55 | 23 | 22 | 0 | 58 | 24 | 2 | 208 | 9.0 | 2.5 | 3.4 |
| 2003-04 | So | G | 17 | 16 | 563 | 97 | 183 | 53.1% | 38 | 71 | 53.5% | 3 | 9 | 33.3% | 88 | 72 | 46 | 26 | 29 | 0 | 34 | 22 | 2 | 235 | 13.8 | 5.2 | 4.2 |
| 2004-05 | Jr | G | 20 | 3 | 313 | 34 | 67 | 50.6% | 12 | 19 | 63.2% | 0 | 1 | 0.0% | 35 | 25 | 17 | 8 | 16 | 0 | 27 | 16 | 1 | 80 | 4.0 | 1.8 | 1.3 |
| Career | | | 60 | 19 | 1409 | 211 | 396 | 53.3% | 98 | 161 | 60.9% | 3 | 12 | 25.0% | 181 | 175 | 118 | 57 | 67 | 0 | 119 | 62 | 5 | 523 | 8.7 | 3.0 | 2.9 |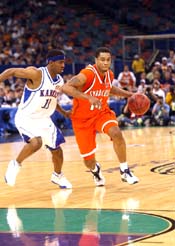 Billy Edelin was a highly recruited point guard, with incredible size and ball handling ability. Unfortunately his promising career at Syracuse was cut short by a series of suspensions related to off the court problems.
As a senior at Oak Hill Academy, he led his team to a 33-0 record and a mythical high school national championship (so voted by the USA Today). He was a 3rd team Parade All-American, and contemplated going directly to the NBA from high school.
Edelin's freshman year at Syracuse was postponed one season because of misconduct with a female student. He was suspended from the university, and reinstated after the year when the charges were dropped. During this time away from the school, he obtained permission from the university to play in an over-30 men's church basketball league to keep in shape.
Unfortunately for Edelin, the NCAA didn't agree with the university's decision, and required Edelin to sit out the first 12 games when he started school (one game for each church league game he had played). Edelin finally started his SU career 1 1/2 years late, in January of 2003. He took a while to get back into game shape, but started to come into his own during the NCAA tournament. While never a starter his freshman year, he provided invaluable time at the point guard position, helping relieve Gerry McNamara of that responsibility.
Edelin was an excellent ball handler, who could easily pass a ball over the shorter defenders. With his size, he was able to post up the smaller guards down low, and was quite effective and backing his man down to the hoop. He was excellent in the 2-3 zone, with his size and speed at preventing the interior pass. Edelin possessed no perimeter shot, and rarely ever shot from outside; his free throw shooting was equally ineffective.
In the 2003 NCAA tournament, Edelin led SU in scoring the first two games, including 20 points against Oklahoma State in a dramatic comeback win (he shot 8-12 from the floor). He never started in 2003, but he was a valuable key in helping the Orangemen win their first NCAA Tournament Championship.
Edelin became the starting point guard his sophomore year. He was having a steady season, including a career high 28 points, 9 rebounds, 9 assists against Canisius that year. He had an excellent assist to turnover ratio, learning to protect the ball well. Unfortunately, his season fell apart on February 10th when he missed a game because of undisclosed personal reasons. He would end up missing the remainder of the season.
Because of his missed school time in the spring of 2004, Edelin was forced to miss the early part of the 2004-2005 season to catch up on his school work. He finally returned to action on December 1, 2004. He had worked his way back into the starting lineup, starting three straight games when he again suddenly missed a game February 23 against St. John's due to personal reasons (undisclosed to the public). Edelin would never play again that season, and would never play for the Orange again. The loss of Edelin surely hurt a team that was lacking in experienced depth at the guard position.
Edelin would transfer to NAIA Mountain State University in Beckley, West Virginia, for his senior season. However, he would never attend classes, and would leave school after one week. He instead play professional basketball overseas in Belgium.
Edelin would work as a clerk in the Onondaga County courthouse for 8+ years, starting around 2007 [1].
© RLYoung 2005, 2006, 2015
[1] Mike Waters, Syracuse Post-Standard, October 18, 2015.