| | |
| --- | --- |
| HS: Rush-Henrietta | Rochester, NY |
| | |
| --- | --- |
| Born: 2/14/1949 | Rochester, NY |
Season Stats

| Season | Cl | Pos | G | GS | FG | FGA | % | FT | FTA | % | Asst | Reb | Fls | DQ | Pts | PPG | APG | RPG |
| --- | --- | --- | --- | --- | --- | --- | --- | --- | --- | --- | --- | --- | --- | --- | --- | --- | --- | --- |
| 1968-69 | So | C | 25 | 25 | 177 | 307 | 57.7% | 122 | 197 | 61.9% | | 290 | 92 | +0 | 476 | 19.0 | 0.0 | 11.6 |
| 1969-70 | Jr | C | 19 | 19 | 137 | 227 | 60.4% | 110 | 178 | 61.8% | | 235 | 75 | 6 | 384 | 20.2 | 0.0 | 12.4 |
| 1970-71 | Sr | C | 26 | 26 | 222 | 366 | 60.6% | 147 | 248 | 59.3% | 30 | 378 | 91 | 3 | 591 | 22.7 | 1.2 | 14.5 |
| Career | | | 70 | 70 | 536 | 900 | 59.6% | 379 | 623 | 60.8% | +30 | 903 | 258 | +9 | 1,451 | 20.7 | 0.0 | 12.9 |
Bill Smith was a dominating center for Syracuse basketball for three seasons. Smith was 6'11" and very agile with a nice shooting touch. He was a strong rebounder and was often used for generating the outlet pass for Syracuse's fast break, which coach Roy Danforth loved to employ. Smith was a poor free throw shooter, and had a short fuse for his temper.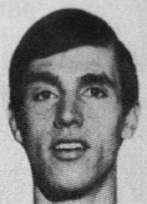 Smith was outstanding on the freshman basketball team, averaging 21.0 points a game and 13.6 rebounds. He made 68% of his field goal attempts, in part because of his solid shooting skills and in part because of terrific passing by his teammates. Had individual highs of 36 points and 34 rebounds in games that year.
Smith joined a young team his sophomore year, with Danforth as a rookie head coach. The team had hoped to ride Smith for a lot of success, but like many of his teammates, he was inconsistent that season. The second game of Smith's varsity career was memorable as he put up 41 points against Niagara. Unfortunately for the Orangemen, Niagara's sophomore sensation Calvin Murphy put up 68 points on his own. Smith did finish the sophomore season with positive results with over 19 points per game and eleven rebounds, leading the team in both categories. He would score 33 against Niagara later in the season (again a loss).
Smith had Bob McDaniel join him in the front line for his junior season, and the hopes were the maturing team with the additional size up front would be significantly better. The team did improve, but not near to expectations. Smith developed a reputation with his hot temper, and he did not like being pushed around by opposing players. This lead to him often getting into foul trouble.
On January 14th, Smith had a game for the ages in a lopsided win over Lafayette. Smith scored a school record 47 points on 17 shots out of 23 attempts from the floor, plus went 13 for 19 from the free throw line. He had two other games that season where he scored 30+ points.
However, his season (and the team's) would totally unravel in a game in Morgantown on Valentine's day. Syracuse was trailing West Virginia in the second half of the game when they made a comeback and led by three. The Mountaineers then put on their own run, and got the lead up to 10 with 1:01 left to go. Smith was called for his fifth foul and took a punch at referee Hugh Young. Fans would storm the court, and a brawl would ensue. The game would be called in the Mountaineers' favor with the final score 94-84.
Smith would be suspended for the remainder of the season, and Syracuse would go on to lose three of those five games.
Smith would be the only player of significant size his senior season, as Roy's Runts Plus One were nicknamed. Greg Kohls would emerge as a strong perimeter scoring threat to Smith's inside play, and the team would earn an NIT bid. The team would lose to Michigan in the first round of the tournament, with Smith leading the way with 27 points. Smith would have two more games that season with 30+ points, giving him a career total of seven. He would again lead the team in scoring and rebounding.
When he graduated, Smith was the second all time leading rebounder at Syracuse behind Jon Cincebox and the school's second all time leading scorer behind Dave Bing. He would be drafted in the third round of the 1971 NBA Draft, the 42nd pick overall, by the Portland Trailblazers. He was also picked by the Pittsburgh Pipers in the ABA draft that same year, though he would go with the NBA.
Smith would have a short NBA career, lasting only two lackluster seasons.
NBA Career Statistics

| Season | Pos | G | Min | FG | FGA | % | FT | FTA | % | Asst | Reb | Fls | DQ | Pts | PPG | APG | RPG |
| --- | --- | --- | --- | --- | --- | --- | --- | --- | --- | --- | --- | --- | --- | --- | --- | --- | --- |
| 1971-72 | C | 22 | 448 | 72 | 173 | 41.6% | 38 | 64 | 59.4% | 19 | 135 | 73 | | 182 | 8.3 | 0.9 | 6.1 |
| 1972-73 | C | 8 | 43 | 9 | 15 | 60.0% | 5 | 8 | 62.5% | 1 | 8 | 8 | | 23 | 2.9 | 0.1 | 1.0 |
| Total | C | 30 | 491 | 81 | 188 | 43.1% | 43 | 72 | 59.7% | 20 | 143 | 81 | - | 205 | 6.8 | 0.7 | 4.8 |
©RLYoung 2007