| | |
| --- | --- |
| HS: Mont Pleasant | Schenectady, NY |
Season Stats

| Season | Cl | Pos | G | GS | FG | FGA | % | FT | FTA | % | Fls | DQ | Pts | PPG |
| --- | --- | --- | --- | --- | --- | --- | --- | --- | --- | --- | --- | --- | --- | --- |
| 1950-51 | So | G | 25 | 8 | 55 | | | 10 | 22 | 45.5% | 39 | | 120 | 4.8 |
| 1951-52 | Jr | G | 19 | 19 | 47 | | | 21 | 33 | 63.6% | 42 | | 115 | 6.1 |
| 1952-53 | Sr | G | 2 | 2 | 8 | | | 8 | | | | | 24 | 12.0 |
| Career | | | 46 | 29 | 110 | 0 | --- | 39 | +55 | 0.0 | +81 | 0 | 259 | 5.7 |
Bill Manikas was a speedy guard for Syracuse for three seasons.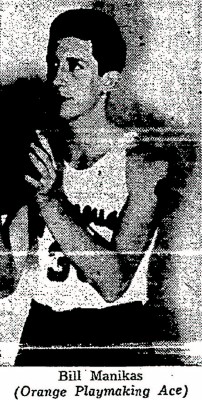 Manikas was an aggressive playmaker, pushing the ball up the court gracefully and quickly. He was known as a fierce competitor. Manikas had a reputation as being the best defensive player on the team, and Coach Guley would assign him to defend the best offensive player on the opposing team.
Manikas followed a long line of Mont Pleasant High School players to Syracuse, including Dick Suprunowicz, Johnny Gorecke, Stan Kruse and Tony Hladik, among others.
Manikas ran the offense for Syracuse his junior season, and the team performed well with one of the top scoring units the Hill had seen up to that point. He was named captain of the team his senior season. Unfortunately he would severely twist his ankle in December after two games, and would miss the remainder of the season.
Bill's young brother Phil played freshman basketball at Syracuse later in the decade.
Bill Manikas would be a teacher in Elnora, NY.
©RLYoung 2006, 2009, 2014, 2017