| | |
| --- | --- |
| HS: Mont Pleasant | Schenectady, NY |
| | |
| --- | --- |
| Born:12/21/1927 | Schenectady, NY |
Season Stats

| Season | Cl | Pos | G | GS | FG | FGA | % | FT | FTA | % | Reb | Fls | DQ | Pts | PPG |
| --- | --- | --- | --- | --- | --- | --- | --- | --- | --- | --- | --- | --- | --- | --- | --- |
| 1948-49 | So | G | 24 | 14 | 41 | 94 | 43.6% | 46 | 65 | 70.8% | - | 59 | - | 128 | 5.3 |
| 1949-50 | Jr | F | 27 | 27 | 70 | 147 | 47.6% | 71 | 109 | 65.1% | - | 67 | - | 211 | 7.8 |
| 1950-51 | Sr | F/G | 27 | 17 | 62 | - | | 63 | 90 | 70.0% | - | 89 | - | 187 | 6.9 |
| Career | | | 78 | 58 | 173 | +241 | --- | 180 | 264 | 68.2% | - | 215 | - | 526 | 6.7 |
Dick Suprunowicz was a three year starter, and a defensive standout. He was selected as "Athlete of the Week" by the Syracuse Daily Orange for his outstanding play vs. Bob Cousy of Holy Cross. Suprunowicz was very adept at driving to the hoop for easy layups and a high shooting percentage.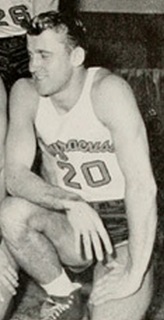 He was a star player (with his brother Walt) for Mont Pleasant High School, a team that lost just one game in three years.
After graduation, he taught in the Schenectady area at Central Park, Mont Pleasant and Linton High Schools, where he later served as assistant principal. He coached basketball at Mont Pleasant for six years. He served in the Navy during the Korean War.
Suprunowicz was inducted in to the Schenectady area Hall of Fame for his outstanding achievement in community service and athletics. His son Bill played guard for Syracuse from 1972 to 1974.
Suprunowicz passed away in March 2019 [1].
©RLYoung 2005, 2009, 2015, 2017, 2018, 2020
[1] Richard Suprunowicz Obituary, DailyGazette.com, March 22, 2019