| | |
| --- | --- |
| HS: Brooklyn Boys | Brooklyn, NY |
Season Stats

| Season | Cl | Pos | G | GS | FG | FGA | % | FT | FTA | % | Reb | Fls | DQ | Pts | PPG | RPG |
| --- | --- | --- | --- | --- | --- | --- | --- | --- | --- | --- | --- | --- | --- | --- | --- | --- |
| 1954-55 | So | F | 21 | 21 | 118 | 118 | - | 95 | 155 | 61.3% | - | 55 | - | 331 | 15.8 | |
| 1955-56 | Jr | F | 22 | 22 | 136 | - | - | 129 | 201 | 64.2% | - | 73 | - | 401 | 18.2 | |
| 1956-57 | Sr | F | 25 | 25 | 217 | 463 | 46.9% | 171 | 246 | 69.5% | 176 | 76 | - | 605 | 24.2 | |
| Career | | | 68 | 68 | 589 | +581 | 0.0 | 395 | 602 | 65.6% | +176 | 204 | 0 | 1337 | 19.7 | 0.0 |
Vinnie Cohen was the star forward for Syracuse University in the mid 1950's, leading the team in scoring all three season and leading Syracuse to its first NCAA berth in 1957. He was one of the first prominent African American athletes at Syracuse.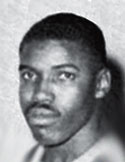 Cohen initially committed to going to New York University, having a big reputation from Boys & Girls High School in Brooklyn. He changed his mind, coming to Syracuse instead, and did not disappoint as he led the freshman team in scoring.
Cohen was an explosive leaper, who could beat his opponent and drive to the hoop. Combine that with excellent ball handling skills and strong rebounding, and he was a lot to deal with on the court, despite being only 6'1". He was part of a talented sophomore class that included Jim Brown, Jim Snyder, Gary Clark, and Vinnie Albanese.
As a junior, Cohen's game kept improving. He set a Syracuse record average 18.2 points per game. His senior season, Cohen would demolish the single season scoring record, amassing 605 points, on his way to a 24.2 point per game average. He would scored 30+ points five times, including a career high 35 in a one point win over Connecticut.
Cohen and Gary Clark would lead the Orangemen to its first NCAA berth. They would win their first two before meeting #1 North Carolina in the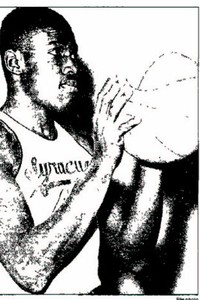 Elite Eight. Cohen would move to guard for the game, in order to get more size on the court. Unfortunately, the Orangemen couldn't match the Tar Heels on the boards, and would lose despite Cohen's 26 point effort.
Cohen would be named a Helms All American his senior year, and would be the school's #2 all-time leading scorer (at the time). He would be drafted by the NBA's Syracuse Nationals. Cohen however wanted to be a lawyer, so he continued his education at Syracuse earning his law degree in 1960.
Cohen would become one of the first black attorney's in the U.S. Department of Justice, and would later become a prominent Washington lawyer in private practice, breaking many racial barriers.
He was named a Syracuse Letterwinner of Distinction in 1982, and to the Syracuse All Century Team in 2000. His son, Vinnie Cohen Jr. was a walk-on guard at Syracuse from 1991-92.
Cohen passed away in December 2011.
©RLYoung 2006, 2008, 2010, 2017, 2019