| | |
| --- | --- |
| HS: Oak Hill Academy | Mouth of Wilson, VA |
| | |
| --- | --- |
| Born: | Saint Louis, Senegal |
Season Stats

| Season | Cl | Pos | G | GS | Min | FG | FGA | % | FT | FTA | % | 3Pt | 3PA | % | Asst | Reb | DReb | OReb | Fls | DQ | TO | ST | BS | Pts | PPG | APG | RPG |
| --- | --- | --- | --- | --- | --- | --- | --- | --- | --- | --- | --- | --- | --- | --- | --- | --- | --- | --- | --- | --- | --- | --- | --- | --- | --- | --- | --- |
| 2010-11 | Fr | C | 35 | 10 | 511 | 31 | 55 | | 15 | 31 | | 0 | 0 | | 7 | 131 | 83 | 48 | 76 | 5 | 20 | 21 | 43 | 77 | 2.2 | 0.2 | 3.7 |
| 2011-12 | So | C | 35 | 0 | 431 | 32 | 45 | | 16 | 24 | | 0 | 0 | | 2 | 87 | 52 | 35 | 66 | 1 | 11 | 7 | 35 | 80 | 2.3 | 0.1 | 2.5 |
| 2012-13 | Jr | C | 40 | 0 | 672 | 55 | 89 | | 39 | 65 | | 0 | 0 | | 6 | 149 | 71 | 78 | 96 | 2 | 22 | 22 | 46 | 149 | 3.7 | 0.2 | 3.7 |
| Career | | | 110 | 10 | 1614 | 118 | 188 | 62.8% | 70 | 120 | 58.3% | 0 | 0 | --- | 15 | 367 | 206 | 161 | 236 | 8 | 53 | 50 | 124 | 306 | 2.8 | 0.1 | 3.3 |
Baye Keita is a center on the Syracuse University basketball team. Keita was born in Saint Louis, Senegal, and came to the United States to play basketball at Oak Hill Academy.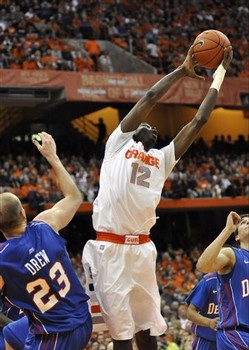 Keita was unheralded as a freshman recruit on the Hill, an afterthought to the highly recruited Fab Melo. However, by the second game of the season, Syracuse fans knew who he was as he pulled down 15 rebounds in only seventeen minutes of play versus Canisius. Keita was a gifted athlete with raw basketball skills. He was extremely effective at running the court, and grabbing rebounds, particularly offensive rebounds, and was an effective shot blocker. He had limited offensive skills, and would frequently be in foul trouble.
However, he quickly earned more playing time each game than his classmate Melo; often Melo would play the first three to five minutes and then see none of the rest of the game. Keita would move into the starting lineup on February 12th at Louisville. Unfortunately, Keita had injured his thumb mid season, and it greatly hampered his ability to hold the ball in the second half. He still was an extremely active player on the court, but he would not be able to grab as many rebounds as a result.
Keita would not progress in his sophomore year as would be expected. He was still struggling to handle the ball well and was limited on offense. Melo had developed significantly, and Rakeem Christmas was now on the team, thus giving Keita less opportunities. Keita would be mostly a non-factor for most the season. However, with the suspension of Melo for the post season, Keita was needed to step in. He played well in the NCAA tournament, and against Ohio State's big front line, Keita did well pulling down 10 rebounds.
Keita was a vital member of Syracuse's defense his senior year. He played crucial minutes at the center position where Syracuse did not have much depth. His style of play was more reminiscent of his freshman season, where he was constantly hustling around the court. Keita's big moment of the season was against Georgetown in the Big East Tournament. Keita would score a career high 13 points, along with eight rebounds, six on them on the offensive boards. More impressively, he made all seven of his free throw attempts, which was critical in a game that the Orange would win in overtime. His free throw improvement would again pay off in the NCAA tournament, as he made seven of ten attempts against California in the second round.
© RLYoung 2010, 2011, 2012, 2013