| | |
| --- | --- |
| HS: Split Rock | Camillus, NY |
Season Stats

| Season | Cl | Pos | G | GS | FG | FGA | % | FT | FTA | % | Fls | DQ | Pts | PPG |
| --- | --- | --- | --- | --- | --- | --- | --- | --- | --- | --- | --- | --- | --- | --- |
| 1949-50 | So | G/F | 24 | 4 | 34 | 112 | 30.4% | 42 | 63 | 66.7% | 52 | - | 110 | |
| 1950-51 | Jr | F | 26 | 26 | 61 | --- | --- | 47 | 82 | 57.3% | 94 | - | 169 | |
| 1951-52 | Sr | F | 20 | 20 | 77 | --- | --- | 66 | 90 | 73.3% | 68 | | | |
| Career | | | 70 | 50 | 172 | +112 | --- | 155 | 235 | 66.0% | 214 | - | 499 | 7.1 |
Eric 'Tom' Huggins was a forward for Syracuse basketball for three years. Huggins was a workhorse of a player with strong defensive skills and an excellent rebounder.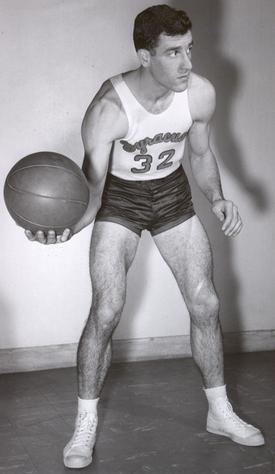 Huggins was born in Wales. He and his family immigrated to the United States in 1932, when he was nine. The United States entered World War II the year he graduated from high school, and Huggins would end up in the military. He would serve in the Army Air Corps, serving in the Pacific theater.
Huggins would be a significant contributor off the bench his sophomore season playing at both the forward and guard position, as a 27 year old sophomore. The Orangemen would earn their second NIT berth that season.
As a junior he had secured his position at forward, doing yeoman's work all season on rebounding and playing solid defense under the boards. Huggins would miss the two post season games that season as he had a personal conflict; he was set to get married on the same date as the National Collegiate Campus Tournament semi-finals and championship. The tournament was new in 1951, and was not yet in existence at the time Huggins set up the wedding plans (which he had set late to avoid the possibility of an NIT or NCAA tournament conflict). Huggins would play in the first game of the tournament, helping the Orangemen to an upset win over Toledo, before he headed back home to get married. The team would go on to win the tournament championship without him.
Huggins would take more of a role in scoring his senior season, along with being he co-captain with Ed Miller. He played every game, despite having an early season shoulder injury, and would average 11 ppg. Huggins would graduate from Syracuse with a B.S. in Arts & Sciences in 1952, and a Masters in Education in 1954.
Huggins would become the coach of the Utica College Basketball team shortly after graduating from Syracuse, and was also the Director of Intramural Athletics. He would eventually become the long term Athletic Director for Utica College, serving in that capacity until he retired in 1987. Along the way he would coach many of the varsity teams at Utica College, along with basketball.
Huggins passed away in February 2009.
©RLYoung 2009, 2014, 2015, 2017
[photo courtesy of Syracuse University Athletic Communications]
[note: Some information from John Pitarresi @ Utica Observer Dispatch ]