| | |
| --- | --- |
| HS: St. Thomas More Prep | |
| HS: Fayetteville-Manlius | Manlius, NY |
| | |
| --- | --- |
| Born: 4/28/1984 | Syracuse, NY |
Season Stats

| Season | Cl | Pos | G | GS | Min | FG | FGA | % | FT | FTA | % | 3Pt | 3PA | % | Asst | Reb | DReb | OReb | Fls | DQ | TO | ST | BS | Pts | PPG | APG | RPG |
| --- | --- | --- | --- | --- | --- | --- | --- | --- | --- | --- | --- | --- | --- | --- | --- | --- | --- | --- | --- | --- | --- | --- | --- | --- | --- | --- | --- |
| 2005-06 | So | DNP | 0 | 0 | 0 | 0 | 0 | --- | 0 | 0 | --- | 0 | 0 | --- | 0 | 0 | 0 | 0 | 0 | 0 | 0 | 0 | 0 | 0 | 0.0 | 0.0 | 0.0 |
| 2006-07 | Jr | DNP | 0 | 0 | 0 | 0 | 0 | --- | 0 | 0 | --- | 0 | 0 | --- | 0 | 0 | 0 | 0 | 0 | 0 | 0 | 0 | 0 | 0 | 0.0 | 0.0 | 0.0 |
| 2007-08 | Sr | F | 4 | 0 | 5 | 0 | 2 | 0.0% | 0 | 0 | --- | 0 | 0 | --- | 0 | 0 | 0 | 0 | 0 | 0 | 0 | 0 | 0 | 0 | 0.0 | 0.0 | 0.0 |
| Career | | | 4 | 0 | 5 | 0 | 2 | 0.0% | 0 | 0 | --- | 0 | 0 | --- | 0 | 0 | 0 | 0 | 0 | 0 | 0 | 0 | 0 | 0 | 0.0 | 0.0 | 0.0 |
Ryan Cahak was a walk-on forward at Syracuse for two seasons. He did not play his sophomore year due to illness, and did not play a game his junior year either.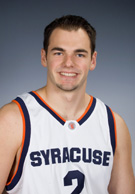 Cahak started college at Division II Dominican College in Orangeburg, NY. As a freshman at Dominican, he played 27 games, started 5, averaged 3.4 ppg and 2.4 rebounds. As a sophomore, Cahak played in 29 games, started 11, averaged 5.6 ppg and 1.9 rebounds.
He transferred to Syracuse before his junior season (and would be considered a sophomore at Syracuse). He did not play his sophomore year due to illness. He was academically ineligible to play his junior season, but practiced with the team.
Cahak was suspended for part of his senior season due to undisclosed reasons. He would ironically be the only senior on the team towards the end of the senior and the only senior honored on seniors day. He would get into four games that season, though he did not score in any.
Cahak was the son of Roger Springfield, former Syracuse area sportscaster and Syracuse University Director of Media Operations.
© RLYoung 2006, 2007, 2008