| | |
| --- | --- |
| HS: Blythewood | Blythewood, SC |
| | |
| --- | --- |
| Born: 9/1999 | Portsmouth, VA |
Season Stats

| Season | Cl | Pos | G | GS | Min | FG | FGA | % | FT | FTA | % | 3Pt | 3PA | % | Asst | Reb | DReb | OReb | Fls | DQ | TO | ST | BS | Pts | PPG | APG | RPG |
| --- | --- | --- | --- | --- | --- | --- | --- | --- | --- | --- | --- | --- | --- | --- | --- | --- | --- | --- | --- | --- | --- | --- | --- | --- | --- | --- | --- |
| 2018-19 | Fr | F | 12 | 0 | 55 | 8 | 12 | | 9 | 12 | | 1 | 2 | | 5 | 10 | 8 | 2 | 2 | 0 | 7 | 6 | 1 | 26 | 2.2 | 0.4 | 0.8 |
| 2019-20 | So | F | 7 | 0 | 48 | 4 | 9 | | 0 | 0 | | 4 | 6 | | 0 | 8 | 7 | 1 | 3 | 0 | 2 | 3 | 0 | 12 | 1.7 | 0.0 | 1.1 |
| 2020-21 | Jr | F | 24 | 0 | 290 | 29 | 79 | | 15 | 18 | | 17 | 57 | | 3 | 45 | 34 | 11 | 30 | 0 | 8 | 10 | 7 | 90 | 3.8 | 0.1 | 1.9 |
| Career | | | 43 | 0 | 393 | 41 | 100 | 41.0% | 24 | 30 | 80.0% | 22 | 65 | 33.8% | 8 | 63 | 49 | 14 | 35 | 0 | 17 | 19 | 8 | 122 | 2.8 | 0.2 | 1.5 |
Robert Braswell was a forward for the Syracuse Orange basketball team for three sesaons. Braswell was an outstanding high jumper in high school, twice winning the South Carolina state championship.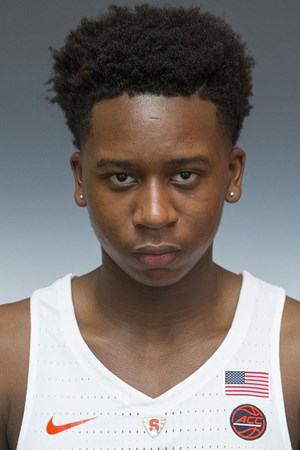 Braswell would see little playing time his freshman season. He would suffer from leg pains his sophomore year, and would sit out the rest of the reason after playing only seven games and 48 minutes.
Braswell would still have issues with his shins his junior season, affecting him throughout the season. He started the year off slowly, missing his first twelve three point shots, but became a vital portion of the rotation the last ten games of the season. His defensive presence was a big portion of the Orange's late season playoff run. He became a spot up three point shooter for the Orange, taking the open three point shots from the corner. He made nine of the last twenty three point shots he took, and scored 37 points in the post season.
Braswell transferred to Charlotte after his junior season.
© RLYoung 2018, 2019, 2020, 2021