| | |
| --- | --- |
| HS: Amherst Central | Snyder, NY |
Season Stats

| Season | Cl | Pos | G | GS | FG | FGA | % | FT | FTA | % | Reb | Fls | DQ | Pts | PPG | RPG |
| --- | --- | --- | --- | --- | --- | --- | --- | --- | --- | --- | --- | --- | --- | --- | --- | --- |
| 1958-59 | So | F | 23 | 19 | 117 | 292 | 40.1% | 40 | 65 | 61.5% | 108 | 46 | - | 274 | 11.9 | 4.7 |
| 1959-60 | Jr | F | 21 | 21 | 131 | 271 | 48.3% | 64 | 88 | 72.8% | 189 | 40 | - | 326 | 15.5 | 9.0 |
| 1960-61 | Sr | F | 23 | 23 | 177 | 424 | 41.7% | 125 | 166 | 75.3% | 185 | 48 | - | 479 | 20.8 | 8.0 |
| Career | | | 67 | 63 | 425 | 987 | 43.1% | 229 | 319 | 71.8% | 482 | 134 | 0 | 1079 | 16.1 | 7.2 |
Pete Chudy was an outstanding scorer for Syracuse as a three year starter. He was a left handed sharpshooter, with a trademark one handed jump shot. On teams lacking a big man, he was the teams leading rebounder for two seasons.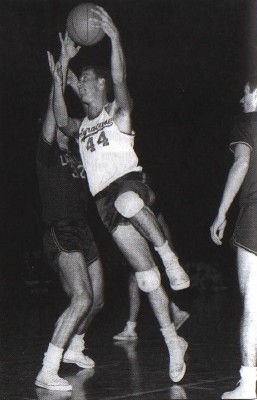 Chudy was the leading scorer on the freshman team, averaging 25.9 ppg. He joined a veteran team his sophomore year with established scorers Jon Cincebox and Eddie Goldberg. Expectations on the Hill were for the Orangemen to be one of the top teams in the country. However, the team struggled to rebound and play defense. Chudy became a starter the fifth game into the season, and ended up being third in scoring behind the aforementioned stars.
Chudy developed a bad back, and that hampered some of his playing time his junior season. However, he still blossomed into a star, leading the team in scoring and rebounding.
Chudy was named team captain his senior season. He was now the only legitimate scoring threat on the team, and became quite prolific at it, with five games with 30+ points. In a win over Alfred, Chudy set a school record with 41 points on 13 field goals with 15 free throws in 19 attempts (record was since broken). He would become the second Syracuse player to average 20 points a game (Vinnie Cohen was first), and would lead the team in rebounding. However, with only Chudy to carry them, the team struggled greatly and finished with a then school record 19 losses.
Chudy would be drafted in the 10th round of the 1961 NBA draft by the Syracuse Nationals. He would fail to make the team.
©RLYoung 2006, 2015, 2017