| | |
| --- | --- |
| HS: Manlius Military Academy | Manlius, NY |
| Central High School | Syracuse, NY |
Season Stats

| Season | Cl | Pos | G | GS | FG | FGA | % | FT | FTA | % | Reb | Fls | DQ | Pts | PPG | RPG |
| --- | --- | --- | --- | --- | --- | --- | --- | --- | --- | --- | --- | --- | --- | --- | --- | --- |
| 1951-52 | So | F | 20 | 0 | 43 | - | | 43 | 54 | 79.6% | - | 46 | - | 129 | 6.5 | 0.0 |
| 1952-53 | Jr | F/G | 18 | 18 | | - | | | | | - | | - | 268 | 14.9 | 0.0 |
| 1953-54 | Sr | F | 19 | 18 | 104 | - | | 97 | 129 | 75.2% | - | 44 | - | 305 | 16.1 | 0.0 |
| Career | | | 57 | 35 | +147 | 0 | 0.0 | +140 | +183 | 0.0 | 0 | 90 | 0 | 702 | 12.3 | 0.0 |
Mel Besdin was a smooth shooting forward for Syracuse basketball for three seasons. Besdin had a nice shooting touch, and was a solid free throw shooter.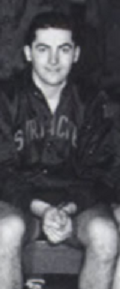 Besdin came to Syracuse with some local notoriety, having been a star for Central High School in Syracuse and the Manlius Military Academy. Besdin would score 56 points in a game for Central on January 11, 1949 against Smith Tech, then a Syracuse high school basketball record.
Besdin would make an impact his sophomore season, as the leading bench scorer. The team was loaded with upperclassmen but Besdin had plenty of playing time, particularly in the second half of the season. He would move permanently into the starting lineup his junior year, and would be second in the team in scoring. He would score 31 points in a win over Niagara on February 10th that season.
Besdin was named team captain his senior year, and would lead the team in scoring. He and Ronnie Kilpatrick shared scoring honors early in the season, but Kilpatrick did not finish the season for academic reasons, leaving Besdin as the lone big scorer on the court. This resulted in Besdin getting more shooting opportunities, and he was fouled often. Fouling Besdin was a mistake for he was showing he was very prolific at the free throw line. He would shoot 12 for 12 from the free throw line in a two point victory over Cornell. Against Colgate on February 13th, he would make 14 free throws, then a Syracuse record. A week later he would break that record on his way to a 33 point night against Penn State, when Besdin sank 15 of 16 free throws. Syracuse needed most of those points that night as the Orangemen won 71-69.
Besdin would be drafted in the eighth round of the 1954 NBA draft by the Syracuse Nationals, though he would not make the team. He would serve in the U.S. Army stationed in Puerto Rico for a couple of years.
Besdin would serve as the program director and physical education director for the Syracuse Jewish Community Center, and then would be the physical education for the Jewish Community Center in Rochester in his 'retirement'. He founded Camp Trout in Lake George in 1959, and was the camp director for 17 years.
Besdin was elected to the Greater Syracuse Sports Hall of Fame in 2022.
©RLYoung 2009, 2014, 2017, 2022