| | |
| --- | --- |
| HS: Loyola | Los Angeles, CA |
Season Stats

| Season | Cl | Pos | G | GS | Min | FG | FGA | % | FT | FTA | % | 3Pt | 3PA | % | Asst | Reb | DReb | OReb | Fls | DQ | TO | ST | BS | Pts | PPG | APG | RPG |
| --- | --- | --- | --- | --- | --- | --- | --- | --- | --- | --- | --- | --- | --- | --- | --- | --- | --- | --- | --- | --- | --- | --- | --- | --- | --- | --- | --- |
| 2006-07 | So | G | 3 | 0 | 5 | 1 | 3 | 33.3% | 0 | 0 | --- | 0 | 0 | --- | 0 | 0 | 0 | 0 | 0 | 0 | 1 | 1 | 0 | 2 | 0.7 | 0.0 | 0.0 |
| 2007-08 | Jr | G | 8 | 0 | 46 | 2 | 3 | 66.7% | 0 | 1 | 0.0% | 0 | 0 | --- | 5 | 8 | 7 | 1 | 6 | 0 | 4 | 2 | 0 | 4 | 0.5 | 0.6 | 1.0 |
| | Sr | G | | | | | | | | | | | | | | | | | | | | | | | | | |
| Career | | | 23 | 0 | 80 | 6 | 13 | 46.2% | 0 | 3 | 0.0% | 0 | 3 | 0.0% | 5 | 10 | 8 | 2 | 8 | 0 | 7 | 3 | 1 | 12 | 0.5 | 0.2 | 0.4 |
Justin Thomas was a walk-on guard for Syracuse for three seasons.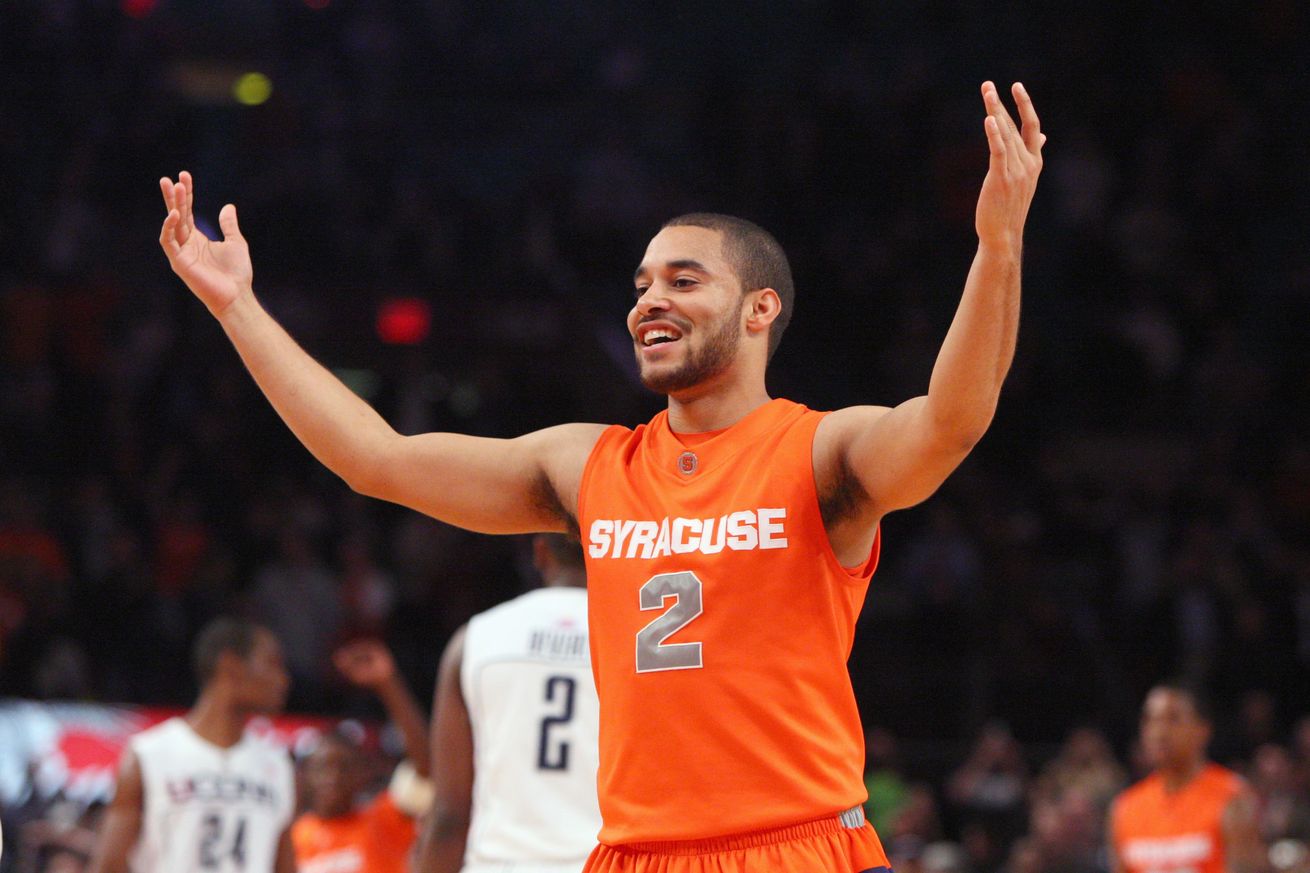 At Loyola High School, where he played three seasons of varsity basketball, he was the team captain his junior and senior years. The team went 75-19 in his three seasons.
Syracuse has several significant injuries (Eric Devendorf and Andy Rautins), suspensions (Scoop Jardine) and departures (Josh Wright) from the team his junior season. As a result, Thomas was the reserve guard in case the remaining guards Jonny Flynn and Paul Harris could not play. The opportunity never arose for him to step in during that situation, though he did log forty six minutes that season.
Syracuse was deep at the guard position Thomas's senior season, so he did not have much opportunity for real playing time in the regular season. However, in the Big East Tournament that would change. In the Syracuse - Connecticut record 6 overtime game, Eric Devendorf fouled out in the fifth overtime. Syracuse had no scholarship players left, so Thomas entered the game and played the last two minutes of the fifth quarter, and all five minutes of the sixth quarter. While the rest of the players were exhausted from playing for sixty plus minutes, Thomas started his overtime activity by doing jumping jacks during the game (he'd been sitting for 3+ hours). Thomas did his part down the stretch, making no mistakes, grabbing a rebound and getting a blocked shot, as Syracuse went on to win 127-117.
© RLYoung 2006, 2007, 2008, 2009