| | |
| --- | --- |
| HS: Nottingham | Syracuse, NY |
Season Stats

| Season | Cl | Pos | G | GS | FG | FGA | % | FT | FTA | % | Asst | Reb | Fls | DQ | TO | ST | BS | Pts | PPG | APG | RPG |
| --- | --- | --- | --- | --- | --- | --- | --- | --- | --- | --- | --- | --- | --- | --- | --- | --- | --- | --- | --- | --- | --- |
| 1973-74 | So | F | | | | | | | | | | | 40 | 0 | | - | | | 4.7 | 0.3 | 3.2 |
| 1974-75 | Jr | F | 32 | 32 | 172 | 316 | 54.4% | 43 | 60 | 71.7% | 62 | 227 | 98 | 3 | - | - | - | 387 | 12.1 | 1.9 | 7.1 |
| 1975-76 | Sr | F | 29 | 29 | 160 | 366 | 43.7% | 67 | 98 | 68.4% | 51 | 218 | 81 | 3 | 75 | | 21 | 387 | 13.3 | 1.8 | 7.5 |
| Career | | | 86 | 64 | 375 | 765 | 49.0% | 142 | 201 | 70.6% | 121 | 526 | 219 | 6 | +6 | +43 | +6 | 892 | 10.4 | 1.4 | 6.1 |
Chris Sease was a high flying forward for Syracuse basketball for three seasons. He was nicknamed the 'Rocket Man' for his ability to soar above the basket for dunks and rebounds. He also had a solid jump shot.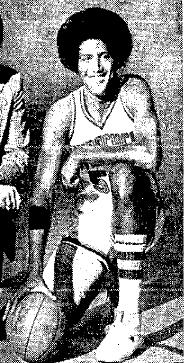 Sease came to Syracuse without an athletic scholarship, instead relying on Federal Aid. Sease only played one year of high school basketball, and was forced to sit out his freshman season at Syracuse. Nevertheless, he earned a scholarship as a sophomore to be on the team.
Sease was a valuable sixth man his sophomore season. He started a few games early in the season when Steve Shaw and Kevin King struggled. Fred Saunders would become eligible to play in the second semester, and Sease would return to being the top bench player.
Sease moved into the starting lineup his junior season, and was valuable to the team with his perimeter jump shooting and rebounds near the rim. He would be second on the team in rebounding and third in scoring. The Orangemen made an improbably run to the Final Four that season, and Sease was a major contributor. He would score a career high 28 points against Niagara in the ECAC Playoffs to help earn the Orangemen a berth to the NCAA tournament. He would score 10 points against North Carolina in their upset win, including a 20 foot shot with 30 seconds remaining and the Orangemen down by three, to keep them in the game.
Sease was named the team captain his senior season. He struggled to find his shot in portions of the season, especially early on, as defenses were able to key more on him. He would be second on the team in scoring and rebounding.
Sease would work in the construction business in the Syracuse area after graduation.
©RLYoung 2012, 2014